Sale!

Sale!

Sale!

Sale!

Sale!

Sale!

Sale!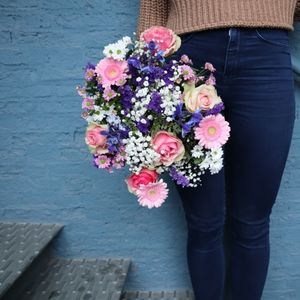 Order popular flowers
Cut flowers and houseplants are an essential part of our daily lives, enriching our homes and surroundings with color, fragrance and life.
For this reason, they make a wonderful gift to your loved ones. Flowers are also always appreciated as a decorative element.
Buy popular plants
Not only cut flowers are particularly popular among us Germans, but also houseplants are gaining more and more importance. We therefore name the most popular houseplants that find their place in apartments and houses.
This much is said: You do not need a green thumb, because the most popular plants are also the easiest to care for houseplants.
---
Send popular flowers and plants
If you don't know what kind of flowers or plants you would like to give as a gift, we will be happy to help you with words and deeds. Because we believe that among the most popular flowers in Germany is certainly something for your loved ones. Whether as a gift for a birthday, at a particular time of year or as a gift to your sweetheart, we will give you tips on which flowers are particularly popular and when.
Popular flowers as a birthday gift
Always a popular gift: flowers for a birthday. But it is not always easy to give the right bouquet when you have a wide choice of different colors and flowers. This much is said, a colorful bouquet of flowers is always a good idea.
We'll tell you which popular cut flower species are especially in demand for birthdays:
These flowers will do especially well in your birthday bouquet. Not only because they look good, but also because they have wonderful meanings. For example, lisianthus stand for appreciation, gerberas for friendship, or calendulas for connection. Roses on the other hand, are the perfect birthday gift to your sweetheart because they are a romantic gesture, just like carnations that also express passion.
Popular flowers for women
You would like to surprise your wife with flowers? But you are not sure with which flowers you can best surprise your sweetheart? Then we will tell you which flowers are especially popular among women.
Let's say that roses are always a good idea. So are red bouquets, as they signal love and affection. Another sign of love and romance are peonies. These will win the heart of your loved one with their plump blossoms. However, these are only available for a short time from May to the end of June.
Another flower that has a very deep meaning and is available all year round is the lily. It stands for true love and is therefore very popular with women. Pink flowers are another sign of affection and tenderness.
Popular flowers for men
We would like to dispel the prejudice that only women are happy about flowers, in the world of men flowers are also given as a gift. But, which flowers are popular with men? Especially popular here are gerberas. These express a certain strength and steadfastness. In addition, they are very easy to care for. Especially yellow flowers are suitable for the master of the house, as they represent energy, strength and optimism.
Popular plants
Not only cut flowers are particularly popular with us Germans. Houseplants are also becoming more and more important. We therefore name the most popular plants that find their place in apartments and houses.
The undisputed number 1 is the window leaf, better known as Monstera. This plant should not be missing in any Urban Jungle. Shortly followed by orchids, which will enchant your urban jungle with their colorful flowers.
Also basket marants, lucky chestnuts or lucky feathers are welcome guests in German living rooms. But that's not enough exotics, because the flamingo flower can't be missing. You can find even more extensions for your green jungle in our Urban Jungle category.
Popular flowers per season
Sometimes our favorite flowers are seasonal and not available all year round. As sad as it is, however, we are then glad when their season has begun. Therefore, we would like to present you popular flowers by season, which can be especially good gifts in their time or become the highlight of your table decoration.
Popular flowers in spring
In spring, the early bloomers welcome us and with them the world of flowers gets a fresh and colorful wind. Especially popular flowers for this time of year are therefore:
You can find even more early bloomers in our spring bouquets.
Popular flowers in summer
After the spring flowers have slowly ended their season, the summer flowers are waiting for their grand entrance. With their many bright colors, they bring us the good summer mood in the home or provide bright eyes for gift recipients. Here are especially popular:
You haven't found the right flower for you yet? Then take a look at our summer flowers.
Popular flowers in autumn
Now the golden season begins, when the earth is colored in wonderful yellow, red and orange tones. With this change, the next flowers are already ready to convince you of their beauty. In autumn you can enjoy these flowers:
You can find even more beautiful golden-orange bouquets in our fall flowers.
Popular flowers in winter
Even if winter seems rather cold and dreary, it still enchants with wonderful flowers that make especially good small Christmas gifts. Popular flowers here are:
It was not yet the right one for you? Otherwise, you can find what you are looking for in our winter flowers.
When is the best time to give flowers?
Of course you can give away your favorite flowers just like that or buy them for yourself, but there are also special occasions when flowers are especially popular. For example, flowers can be given especially well for birthdays, as a gift for an anniversary, to say thank you or for a wedding.
There are also certain days when flowers are a suitable choice. For example, many people like to give bouquets of flowers for Valentine's Day. Women's Day or Mother's Day are also very high on the list when it comes to reasons to give flowers.
Of course, you can also surprise your dad on Father's Day with a bouquet of flowers. Or your grandma on Grandma's Day.
Some people also surprise their best friend on Friendship Day.