Order Urban Jungle plants online
You love it green and therefore want to expand your four walls with a few plant friends? You like to bring a little exoticism into your home or want to spice up your air with a few evergreen plants? You want to follow the Urban Jungle trend?
No problem, we have the right green plants for you. We'll help you easily buy plants online.
What does Urban Jungle mean?
Originally, the term Urban Jungle is taken from English. In German it means urban jungle. What many people now perhaps rather evokes images in the head. But what exactly is the meaning of an urban jungle?
For us it is quite simple. Imagine you live in a metropolis like Berlin, Munich or Hamburg - the living space is limited, there is usually no room for gardens. But you would still like to have a few evergreen plants around you.
No problem, why not simply turn your apartment into an urban jungle? Our tip: Bring the urban jungle into your home with a few green buddies.
Which plants are suitable for your Urban Jungle?
This question is also easy to answer. As the name jungle suggests, tropical or exotic plants are particularly suitable for an indoor jungle.
However, be careful with the selection! Because here again there are plants that are extremely easy to care for and do not blame you if you forget to water them. On the other hand, there are also plants that require a lot of care and thus a certain amount of work, because they need the perfect place in your apartment or need to be watered several times a day.
Our tip: Be careful when choosing plants. It is best to read the care instructions of the plants in advance before you blindly place your order and the plant does not suit you - this would be too bad.
Our top 3 green plants for your jungle feeling
1. Peacock basket marante (Calathea Makoyana, 85 cm)
Are you ready for a Brazilian beauty? If so, then our Peacock Basket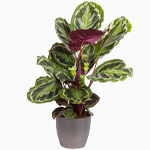 Marante is the right choice for you. With its beautiful leaf pattern, it lives up to its name, as the leaves closely resemble the plumage of a peacock. However, we must confess that the Peacock Basket Marante is a bit of a diva when it comes to maintenance. It loves a warm place and high humidity. Moreover, it is happy if its substrate is always kept moist.
2. Monstera pertusum XL (window leaf, 120 cm) incl. moss stock
Originating from the tropical rainforest, the Monstera Pertusum is the perfect addition to your Urban Jungle. Due to its size it is also

it is also an optimal privacy plant. Not only its size is a plus, but also the fact that it has an integrated air filter and thus helps you out with fresh air, makes it something very special.
Our Monstera Pertusum is very suitable for plant beginners, because it is one of the low-maintenance plants. It requires regular watering, little to no fertilizing, and is very comfortable in a bright spot without direct sunlight.
3. Flamingo flower white (anthurium, 50 cm) + free pot
Looking for a plant with flower for your Urban Jungle? Then give the flamingo flower a try. No matter if in white or red. Whether as a potted plant or hydroponic, this plant has a lot to offer. Our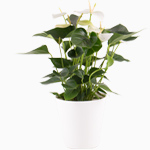 Favorite is, however, the white anthurium, as this makes a good match to any interior style.
But what makes the flamingo flower suitable for Indoor Jungle? Simple! It originates from the rainforests of Colombia. If this isn't a reason for an admission ticket to your Urban Jungle!
And plant beginners take note! The anthurium blooms year-round with minimal care! It requires little water, likes partial shade, and needs little fertilization. This is also the reason why the anthurium is especially popular with men!