Send flowers - Online flower delivery
Send flowers throughout Germany and give joy to any occasion by sending flowers. Our seasonal cut flowers are sent in the fastest way and therefore convince with the best quality at the best price. If desired, an order can be delivered directly the following day.
Sale!

Sale!
---
Plants for indoors & outdoors
Send plants and have them delivered all over Germany. Our plant assortment includes a wide range of indoor plants, office plants and outdoor plants. Plant delivery is made directly to your door, so your green oasis can grow quickly and conveniently.
---

---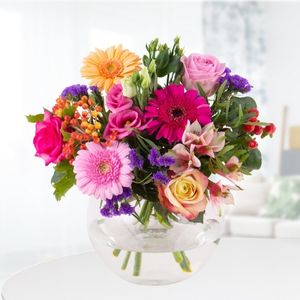 Send flowers
Welcome to blumenshop.com - THE online flower delivery service for fresh flowers and successful surprises.
With us, you can choose a colorful and special bouquet for your mom, your best friend, a colleague, your neighbor, or your brother.
Seasonal Flowers
The days are getting longer and the sun is shining. Finally the warm season begins and we have fresh summer flowers for you!
Peonies are the most beautiful messengers of early summer and sunflowers bring a smile to everyone's face.
Order flowers online with blumenshop.com
We don't always feel like going out and visiting the flower store on the corner. With us, you can choose flowers conveniently online from the hammock, in the subway, or the park. You can simply use your lunch break to browse our virtual flower store or even send a bouquet after closing time.
Often your loved ones live too far away to give them a bouquet in person. We will send the bouquet of your choice anywhere in Germany to the address you choose. Thanks to our flower delivery service, you can surprise loved ones all over the country with a flowery gift. If you wish, we will include a free greeting card in the package as a small gift or you can record a heartfelt video message for the recipient.
Send flowers online - give joy
Can you order online with us just as easily as with your favorite Italian? Of course! You only need to follow 4 simple steps:
Select your flowers to send.
Add a greeting text or a video message for free if you wish.
Enter the correct delivery address of the recipient.Choose the appropriate delivery date.
Tada - done! Our flower shop team will then get to work to get your order on its way as quickly as possible. First, we send you your order confirmation and deliver your order on time on the shipping date you specify - even the next day if you wish.
How do we make this possible? With a little magic and the hard-working letter carriers from Express Delivery. So, if you order by 1:30 p.m. today, the letter carrier will be ringing your loved one's doorbell tomorrow.
Our 7-days-freshness-promise
Send flowers that last? It's possible - with our service! Order your flowers online with our 7-day-freshness-promise. For this, we pay attention to short supply chains in our flower delivery. At the same time, we can offer you a very good price-performance ratio with fair prices for your online purchase.
Send flowers - fresh, secure and fast
We are one of the old hands regarding online flower delivery. That's why we can assure you of one thing: our shipping in Germany, the Netherlands, and Belgium is safe and fast, which is why our flowers always reach you fresh.
Germany-wide: Send fresh flowers
It is especially important to us that your flowers arrive intact and freshly bound to your loved ones. That's why we send each bouquet protected in special shipping boxes that we have developed ourselves. We have the right shipping box for both large and small bouquets, for 10 and 100 roses, or one green plant.
No matter which size you want to send your flowers: We deliver the packages safely and on time throughout Germany. In addition, our florists make sure that when sending all flowers, plants, and small gifts, the entire delivery is packed safely and carefully.
For a good feeling: Buy flowers safely online
Ordering and paying online at blumenshop.com is guaranteed to be secure. There is always a secure and encrypted connection between you and our store, so you don't have to worry about anything when browsing, logging in, and buying.
No long waiting times: Have flowers delivered quickly
Patience is not your strong point, and you need the flower gift especially urgently? We ship every order the shortest way from the grower to your desired address. Whether you want to send your flowers to Berlin, Hamburg, Cologne, Frankfurt, or Munich: Throughout Germany, we deliver your flower order directly from our florists to your favorite people within a few hours via DHL.
Flowers as far as you can scroll: Buy a wide variety of bouquets online
Should it be a classic Biedermeier bouquet or a bunch of red roses? Do you have a small or a large bouquet in mind? Or are you looking for seasonal flowers and want to send a field bouquet, for example? In addition to bestsellers like red roses, we offer you a nationwide flower service for classic bouquets, colorful birthday flowers, and romantic red, pink, and white bouquets.
From delicate bouquets to lavish mega-bouquets, you'll find flower gifts for every taste and budget. In short, if you want to send a bouquet online, let us deliver the appropriate cut flowers hand-tied. By the way: You can also order dried flowers and planting sets from us.
Order seasonal bouquets online
Our florists create hand-tied bouquets for you. To do this, they select seasonal flowers and combine them with other flower types that you can order from us all year round.
While peonies and sunflowers are only available for a certain period, you can choose roses, lilies, and snapdragons from us at any time. Send tulips in spring, buy field bouquets of wildflowers in summer, and decorate with hydrangeas in autumn? We make it possible for you.
The right flower bouquet for every occasion
Flowers for Mother's Day, Valentine's Day, birthdays, house moves and housewarmings, weddings, and for love: as your online flower store, we offer you a wide range for every occasion you can imagine. In our online flower store, you can also order flowers "just like that" and without any special reason.
Do you already speak fluent floral? We will show you how to express yourself perfectly in the language of flowers. With this you can tell your loved ones through flowers how much happiness, appreciation and love you would like to give them.
Pssst: When you're not in a rummaging mood, we simplify your flower ordering with clever categories. So, you can send bouquets by occasion, color, and price with just a few clicks.
Flowers for birthday
Surprise! On your favorite person's birthday, the letter carrier rings the doorbell and hands him or her a high-quality shipping box. He or she opens the package... and there's a gorgeous birthday bouquet packed with care. What a great gift!
In addition, the recipient will find a greeting card with personal birthday wishes or a video message from you in the package. We also add to the birthday flowers a card with care instructions for the fresh flowers.
Flowers for birth
Do you want to welcome a little one and celebrate his birth? Honestly, most of the time parents can hardly save themselves from stuffed animals and toys and are happy about some variety on the gift table.
Why not surprise your favorite people with a bouquet of flowers for the birth? To give happy parents and their offspring a little rest, you can simply have the gift sent to the hospital or home.
Flowers for a wedding anniversary
Weddings and flowers belong together, just like you and your sweetheart. Flowers are a particularly affectionate gesture on your wedding day. In connection with weddings, by the way, especially like - you guessed it already - the rose is given away.
Do you want to make your partner happy on his or her wedding day? We will gladly help you to make the surprise perfect. We can deliver a beautiful bouquet of flowers to your office or co-working space.
Send flowers and gifts
With us, you not only have the option to add an individual greeting card or a video message to your bouquet. If you wish, we can also include other gifts such as a beautiful vase, a bar of chocolate, chocolates, or a gift cup in the surprise package.
To make sure that all the gifts reach the lucky person in one piece, we will send them well secured in a sturdy shipping box. This way you can send the perfect flower greeting - as a thank you, a get-well wish, or a proof of love.
Have a secret crush on someone or just want to say thank you? We'll help you send great flower greetings and give them anonymously or with a card.
Order plants online
You exhale and your houseplants or office plants breathe in. This simple feat makes them welcome roommates and popular colleagues. There are plenty of suitable contenders waiting for you in our plant store: they purify the air, swallow noise, and provide some peace and relaxation.
From A for aloe vera to M for monstera and Z for zamia aka. lucky feather, you'll find all the well-known indoor and office plants in our shop. Pssst: A plant rarely comes alone, so we have many specimens in practical duos or trios.
Do you like to relax in the summer in the hammock or on the deck chair? Our outdoor plants will accompany you. Our outdoor plant sets not only contain the pre-pulled bulbs of callas, gladioli, lilies, and the like, but also a matching pot or balcony box. So, you can quickly grow your own favorite flowers.
Send flowers - have your flowers delivered all over Germany
You are already waiting for the letter carrier, shortly after you have clicked on "Order"? We understand. You can relax, though, because we'll let you know when your order leaves our florist.
You will then receive a tracking email. This will document every step of the delivery of your flower order. Good to know: The delivery of the package can take place from Monday to Saturday between 8 am - 7 pm.
| | |
| --- | --- |
| Day of order: | Earliest Delivery: |
| Monday before 3 p.m. | Tuesday |
| Tuesday before 3 p.m. | Wednesday |
| Wednesday before 3 p.m. | Thursday |
| Thursday before 3 p.m. | Friday |
| Friday before 3 p.m. | Saturday |
| Saturday | Tuesday |
| Sunday | Tuesday |
---