Order your flower delivery online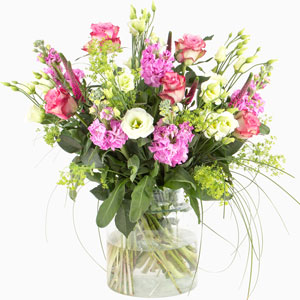 Sending flowers that last a long time? This works out! Order your flower delivery online with a 7-day freshness guarantee!
Our flower delivery uses a short supply chain to offer the best quality of the season at the best price online. Send tulips in spring, buy bouquets of wildflowers in summer and decorate with hydrangeas in autumn. Take a look around, we send all the bouquets as shown. Now cleverly order a hand-tied bouquet of flowers online via the flower shop!
How can I send flowers online?
Select your flowers to send.
If desired, add a greeting text free of charge.
Enter the correct delivery address of the recipient.
Choose your preferred delivery date.
Complete! The Blumenshop team will send you your order confirmation and will have your order delivered punctually on the shipping date you specify - tomorrow if you wish. On request by express. If you order by 2 p.m. today, you will have your bouquet in your hands tomorrow.
Send flowers - fresh - safe - fast
Why buy flowers online? The Internet allows you to order your dream bouquet from a wonderful selection at home. Only by sending flowers to flowers can dear people across Germany be surprised with the gift that everyone loves. If desired, the flower shop will send the flower greeting including a free greeting card as a small gift.
Should it be a classic Biedermeier bouquet or a bunch of red roses? We deliver small and large bouquets. In addition to bestsellers such as red roses, you can also send seasonal items throughout Germany, such as a modern bouquet of flowers in the field. Our shipping to Germany has proven itself to be -secure, -fast, and -fresh:
• Send flowers fresh with water supply
We send each bouquet of flowers protected in a specially developed shipping box. No matter what size you want to send your flowers, we deliver the parcels safely and punctually throughout Germany. We have the right shipping box for both large and small bouquets, for 10 and 100 roses. In addition, our florists make sure that when all flowers, plants and small gifts are sent, the entire delivery is securely and neatly packaged.
• Buy flowers online safely
Ordering and paying online is guaranteed to be safe via Blumenshop - Trusted Shops rating: Very good. There is always a secure and encrypted connection between you and the shop, so that nothing stands in the way of browsing, logging in and buying.
• Have flowers delivered fast
Our in-house florists offer seasonal updates for dispatch. No flowers or accessories can be seen in a cooling chamber and we send every order by the shortest route directly from the grower within Germany. Whether sending flowers to Berlin, Hamburg, Cologne, Frankfurt, Munich: throughout Germany, your flower order from our florists will be sent to the recipient of your choice within a few hours.
Flower delivery in less than 24 hours. Thanks to direct shipping, your greetings will also get to your destination on your birthday, Mother's Day and wedding as if they were freshly picked - 7 days freshness guarantee! Place your order online now by 2 p.m.
Order flowers - send a bouquet plus gifts?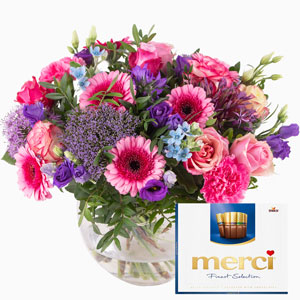 In addition to the beloved and popular option of ordering an individual greeting card for free, the Flower Shop also offers you to send a small gift such as a chocolate bar with your bouquet if required. A bouquet plus a present, including chocolates and vases or gift cups, is an attention that has become far too rare.
We are happy to send your bouquet well secured in a shipping box as a high-quality gift set. Sending flowers with chocolates brings twice the joy: Give away a freshly tied bouquet with gifts as the perfect flower greeting, as a thank you, get well soon or out of love. No matter how far away you are via the flower online shop.
Send great flower greetings quickly: Give flowers anonymously or with a card.
Buy all kinds of bouquets online
Our online shop offers Germany-wide flower service for classic bouquets, wild field bouquets, colorful birthday flowers and romantic red, pink and white bouquets. Every type of flower can be ordered online via our online flower shop and shipped throughout Germany.
We deliver cheap flowers at low prices as well as lush premium bouquets as a decorative highlight for sending and giving away. Speaking of decorations, dried flowers and silk flowers are available from us. In short, if you want to send a bouquet online, you can have the matching cut flowers hand-tied by the flower shop.
Send the right bouquet via the online flower shop
With a handful of categories, Flower Shop simplifies your flower order so that you can easily send bouquets by occasion, color and price. As your online flower shop, we offer you a selected range for every occasion. Flower gifts are a great surprise for any occasion. On Mother's Day, on Valentine's Day, on birthdays, for moves and housewarmings, for weddings and out of love, people use the language of flowers to give away happiness, appreciation and loyalty. But of course it doesn't always take a special occasion to order and send a bouquet of flowers online - the flower online shop is also used "just like that" without a special occasion.
Send dried flowers
The decoration trend of the year are dried flowers. In addition to fresh cut flowers, you will find a changing collection of dried flowers, which are ideal for decorating, giving away and shipping. Our bouquets of dried flowers are hand-tied by our florists and can be kept for months.
Flowers for birthday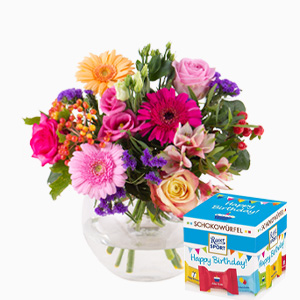 Surprise! On your birthday, the postman rings and hands you a high-quality shipping box. You open the package and in front of you lies a wonderful bouquet of flowers, carefully packed. Makes a great gift!
In your personal package you will also find a greeting card with birthday wishes and a card with care instructions for the fresh flowers. If you want to surprise someone you love for their birthday, you've come to the right place at Blumen-Shop.
Flowers for the wedding day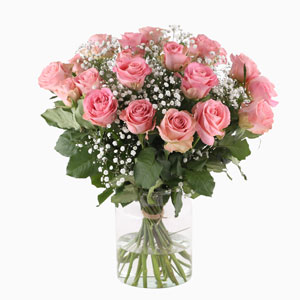 Wedding occasions and flowers go hand in hand. Everyone likes them on the wedding day. A flower makes you happy and is a symbol of vitality. In connection with weddings, the rose is particularly popular as a gift.
Imagine a high-quality package of fresh flowers being sent to the spouse's workplace on this special day? The colleagues will be amazed and the lady of the heart will be amazed, because the flowers were delivered in high quality via flower shop.
Send flowers - have your flowers delivered anywhere in Germany
On the day of dispatch you will receive the shipment tracking by email. All the steps involved in delivering your flower order are documented here. The parcel can be delivered from Tuesday to Saturday between 8 a.m. and 6 p.m.
| | |
| --- | --- |
| Day of order: | Earliest Delivery: |
| Monday before 3 p.m. | Tuesday |
| Tuesday before 15:00 | Wednesday |
| Wednesday before 3 p.m. | Thursday |
| Thursday before 3 p.m. | Friday |
| Friday before 3 p.m. | Saturday |
| Saturday | Tuesday |
| Sunday | Tuesday |