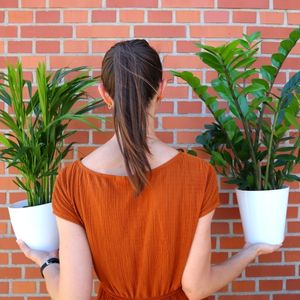 Buy low-maintenance plants
Low-maintenance plants are a good choice for those who have little experience in plant care. This is because these houseplants are hardy, resilient and adaptable, so they will grow even in less than ideal conditions.
Low-maintenance plants as a gift
Especially for the move of a good friend or a family member, green houseplants in low-maintenance version are suitable, because they are real eye-catchers and provide directly for a homey feeling.
Low-maintenance plants for more green
Plants, especially low-maintenance plants are perfect to grow an urban jungle and to bring some green color and fresh air into your home. With these plants this will go without saying because low-maintenance plants don't need a lot of care.
---
Buy low-maintenance houseplants
You want a plant that is easy to care for? Then you've come to the right place! Because, especially for people without green thumb or plant beginners are undemanding houseplants suitable.
You do not have time to take care of elaborate plants, but still want to have a green oasis at home to relax? Well, then we have the perfect remedy for you! Namely, our uncomplicated plants that are suitable for everyone and do well without regular watering.
Whether you're initiated in the fine art of plant care or not, you won't have to worry about repotting, watering, pruning or fertilizing with these hardy houseplants. They'll forgive you for just about any misstep. So give your four walls a green touch today and order yourself some low-maintenance plants.
Modern low-maintenance houseplants
One particularly popular houseplant, which is not only low-maintenance but also quite modern, is the Monstera deliciosa. With its large shiny leaves, it creates a feel-good atmosphere in your four walls. And the best part? It's absolutely easy, it just doesn't like direct sunlight and likes to be watered once a week.
Another fairly low-maintenance and even air-purifying plant is the monocot. It likes a shady to semi-shady spot. It doesn't have many requirement for you, except that it needs a relatively large amount of water. However, it will let you know by drooping leaves when it is thirsty again.
Pineapple plants not only look good and exotic, they are not high maintenance. They like high humidity with a light to partial shade location. With the fruit being the highlight of the plant, the pineapple plant adds a little spice to your Urban Jungle and makes a fun housewarming gift.
Low-maintenance plants for the office or home office
Who doesn't know it? In the office, you often do not have the time to deal intensively with the plant care of green friends, but green may still be. Because did you know that plants have been proven to lower your stress level, are sound-absorbing and provide for more creativity? Our tip is to use simple houseplants as office plants.
How about a trendy lucky chestnut, for example? With its evergreen leaves, this plant, which requires little attention, transforms your office into a green oasis, bursting with productivity.
Another uncomplicated plant that looks particularly good in meeting rooms or at the reception is the lucky feather or also called zamia. With its bold dark green leaves, it brings a breath of fresh air and creates a welcoming atmosphere without much maintenance. It just likes a bright location.
Set up your home office with an elephant foot native to Mexico. This one only needs a bright location and a weekly watering. If you stick to these two points, the Nolina will delight you with a green head of leaves that will make you more creative.
Give the gift of low-maintenance houseplants
It does not always have to be a bouquet of flowers as a gift. Our tip: houseplants! With good care, the person receiving the gift will be able to enjoy them for longer. But you are not sure how well your loved ones know about plant care?
Here we clearly advise you to choose undemanding plants, because you can hardly do anything wrong with them. With plants as a gift, you also jump on the latest interior trend - houseplants! No matter where you look, you see people setting up their Urban Jungle or posting on social media. So you'd be right on trend with a plant as a gift.
The care of low-maintenance plants
As the name suggests, some plants are not high maintenance. For this reason, they are called low-maintenance. However, your green friends still need a little care, but what should you look out for?
Most low-maintenance plants require little to hardly any water. Therefore, adjust your watering habits accordingly and find out in advance how much water your plant needs.
Fertilizer loves every plant, because you give them a nutrient boost. However, be careful with the low-maintenance plants, with them it is usually enough if you fertilize them once a month.
Pay attention to the right location for your plant. Some like it sunny, some prefer partial shade and a few like it shady. Once you have found the right location, however, all are usually satisfied with relatively little. Therefore, find out in advance which location is the most suitable for your new plant.
We will provide you with care instructions for all our plants, so that you can take good care of your Urban Jungel.
Low-maintenance large houseplants
Large plants are ideal as privacy screens or room dividers. But just because they have a certain size, they need a lot of care. We therefore present our favorites among the low-maintenance large houseplants:
The yucca palm: With two or three trunks, the yucca palm causes a stir and doesn't even need much attention. With a sunny location and occasional watering, it is perfectly happy and grows cheerfully.
The

gold fruit palm in XXL

: With a proud height of 150cm, the gold fruit palm is a real eye-catcher but quite suitable for plant beginners. In addition, the plant is also animal-friendly.
The

Golden Pothos in XXL

: The popular climbing plant is available at Moostock and in an incredible height of about 130 cm. It is particularly easy to care for, because it likes regular watering and a bright location. That's all you need to consider when caring for it.