Flowers have always been a symbol of life and beauty. A bouquet of flowers is not only a great gift as a thank you, love greeting and small attention, bouquets also simply look good. Should you now ask yourself, where can I order flowers online, our answer is with us! Dare and give a lovely message with style, send flowers within Germany!
Send flowers online:
Sale!

Sale!

Sale!
Order flowers online throughout Germany
How does the flower delivery work? It's very simple! Choose a bouquet of flowers that you like. Write a nice message in the form of a free greeting card to emphasize your flower greeting or personalize it with a free video message.
After you have placed the bouquet in your shopping cart, you have the option in the checkout area to specify the delivery and billing address, the expected delivery date and your desired payment method. And your order is already placed. With us you can easily have flowers delivered, because we are your flower delivery service within Germany.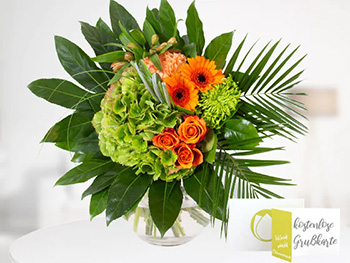 Send flowers as a birthday gift
Send fresh flowers for a birthday: choose a birthday bouquet and write some lovely lines in the free greeting card or personalize your order with a video greeting.
It's best to send a bouquet of flowers in a cheerful color or one of our colorful bouquets for a birthday. For a 30th, 40th, 50th or other "round" birthday, we recommend our high-quality XXL bouquets.
Send flowers with a gift
Send your freshly bound flower greeting nationwide with a gift!
In our assortment you will find a large selection of gift ideas for your flower order.
Whether a vase matching your flower greeting, chocolate, a cuddly toy, a cup or a gift card.
We offer you many possibilities to make your order more personal with a nice gift.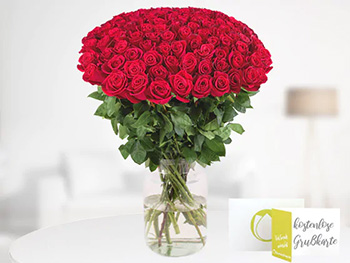 Order roses online
With our rose shipping we send bouquets of roses throughout Germany. For romantic occasions, such as love or Valentine's Day, our bouquets of red roses are particularly suitable.
The absolute highlight are 100 premium roses of the variety Red Naomi. For weddings and other festive occasions, we recommend white premium roses. Blumenshop also offers mixed bouquets with colorful roses.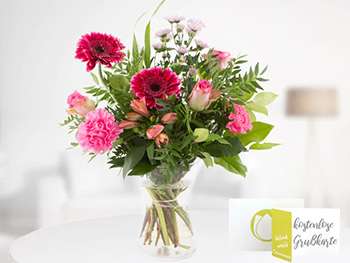 Send affordable flowers
We offer you a wide range of affordable flower bouquets.
With blumenshop.com you can send a bouquet of flowers for any occasion.
In our offers you will find reduced bouquets at fair prices. The offers range from roses to gerberas, sunflowers, carnations, peonies and lilies.
We promise you good value for money with our offers.
Flowers delivery online
7-day-freshness-promise - We promise your flower greeting will stay fresh for at least 7 days.
Fresh from the grower - All flowers sent come directly from the grower. A short supply chain makes it possible to offer flower delivery nationwide, and to deliver seasonal bouquets fresh to your home.
Flowers with a personal message - We want to give joy by sending flowers. Therefore, there is online the possibility to send flowers with card or anonymously - both are free of charge. So add a high-quality greeting card for free, depending on the occasion. In addition, you can also use our free video message service to personalize your flower greeting.
Store & pay securely - Our online store is encrypted, well rated and offers you a variety of popular payment methods, including:
Send flowers to tomorrow
With us you can send flowers at the desired date. Blumenshop is well connected to growers and uses this proximity to offer online flower delivery throughout Germany. The flowers come fresh from the grower, are hand-tied by florists and delivered by direct shipping to the shipping destination. So you can order today to tomorrow. Please note, however, that your order must reach us before 13:30 for express delivery.
Flower delivery Germany
An online store for every address - with blumenshop.com you can send flowers to friends all over Germany. Your online flower delivery service delivers flowering bouquets of the best quality to the Netherlands, Belgium and Germany.
Next day flower delivery? Choose your preferred delivery date:
The shipping date is possible from Monday to Saturday.
Delivery by DHL Standard shipping is 95% on the desired day, otherwise on the following business day.
Delivery by DHL or DPD Express is guaranteed on the desired day.
Send flowers anonymously
You want to send your flowers without a sender? How exactly this works we explain to you under: Send flowers anonymously.