Sale!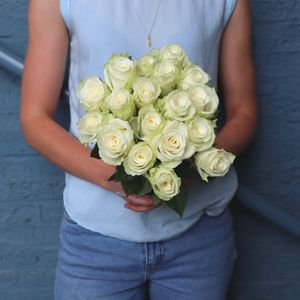 Funeral floristry as a last greeting
Fresh flowers are a fitting gift even on sad occasions. It is custom to wear black at funeral services and the flowers are kept simple, with little color, in white, pink and red to match the attire. They help in this as a greeting to the deceased and should give comfort.
The most popular sympathy flowers
What are popular sympathy flowers?
Roses, carnations, callas, lilies and chrysanthemums are among the popular funeral flowers and are often incorporated into modern funeral floral arrangements or tied funeral bouquets.
Send flowers to the funeral
With our online flower delivery service, you can send appropriate funeral flowers to the location of the funeral service to say goodbye if you are unable to attend in person. However, please clarify the logistics with the location beforehand.
---
Have mourning flowers delivered to express sympathy
When it comes to expressing sincere sympathy to a loved one, flowers and funeral cards are the first choice. Flowers are the easiest way to express your sympathy. A few sincere lines in a card let the mourner know that he is supported and is not alone.
Colorful bouquets are avoided, although they too can remind one of the cheerfulness of the deceased. However, we focus on the classic, understated bouquet to express sympathy with funeral flowers.
What flowers are suitable for a funeral?
First of all, white flowers are ideal to express condolences. White lilies, white roses, bright chrysanthemums, peonies, tulips and hydrangeas are appropriate flowers to send to a grieving person.
Cream colored flowers are also allowed. You won't put your foot in it with them. All mourning flowers may also contain binding greenery, because greenery is very restrained and makes the bouquet even more lush and beautiful.
When choosing flowers, we are guided by seasonal white flowers. A high quality bouquet that you want to send for a funeral may also contain a little splash of color like our classically tied bouquet with its dark blue hydrangea. The Biedermeier bouquet looks very classy and is perfect to give to someone who is grieving.
Have sympathy flowers delivered
We have selected for you the highest quality bouquets suitable for condolence. All bouquets are hand-tied and carefully packaged by our florists. They are tied the day before delivery and provided with a fresh pack of water. You have the option to include a free greeting card or video message with your order.
A simple "In silent sorrow" or "In silent sympathy" is usually all that is needed, as the funeral flowers do the rest. The flowers usually travel less than 24 hours. By the way, you can track your shipment. Thanks to Track and Trace you will be kept up to date and after receipt of the shipment you will be finally informed.
What to do if you can't go to the funeral?
Ordering and sending a funeral bouquet is the perfect option if you can't attend a funeral service yourself. The bouquet is best sent to the private address of the bereaved. There it will be appreciated and the bereaved person will be reminded not to be alone.
Order funeral bouquet
Sending funeral flowers is a beautiful way to support friends and loved ones during a difficult time. Not only do we express our sympathy for the family, but we can also celebrate the life of the person who has passed away. Funeral bouquets are often ranked as one of the most meaningful gifts by those who have lost a friend or family member.
Order funeral bouquet in matching colors
On this page, the team of Blumenshop has selected a number of suitable bouquets for mourning and funeral by color:
Order funeral bouquet with suitable flower varieties
In the world of flowers, there are different flower varieties, which are used especially within the funeral floristry. Lilies and roses are typical mourning flowers:
Lilies: Order lilies, as a sign of friendship.
Roses: Order roses as a sign of love. Red roses in particular convey this message.
Send a greeting card with the funeral bouquet
Express your sympathy with flowers and think of a few encouraging words in the greeting card. If you are unsure what to write, you can find short templates, sayings and quotes about death and mourning on the Internet.
The flowers support you, because not for nothing it is said: "Flowers say more than a thousand words." Ordering funeral flowers online is also possible spontaneously. Our flowers are delivered with standard shipping or express shipping.
Short but meaningful condolences for the funeral card can be as follows:
Deeply touched, I would like to express my sympathy to you today.
In our thoughts we will be with you on the day of the funeral.
I wish you much strength and love during this time.
There is little we can say, but I want you to know that our thoughts are with you.