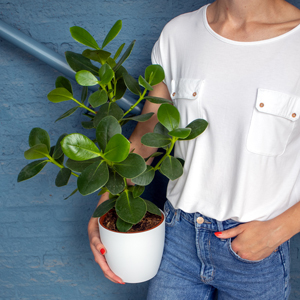 Buy office plants
With us you will find the most beautiful office plants, whether for the home office or large offices.
You are looking for XXL plants as privacy protection or rather something small for every desk? With us you will surely find what you are looking for. Buy office plants now at blumenshop.de!
Various plants for the office
Office plant as a gift
You want to give an office plant as a gift and are looking for a little something to go with it? No problem, we have a little selection for you:
---
Send easy care office plants
Our office plants are easy to care for, uncomplicated and none of your colleagues need a green thumb. Of course, it's always nice to have a colleague you can rely on to water and care for your new office plants, though.
Find the right plant for your workplace with us:
We tell you which plant is suitable for which area of your office:
Entrance hall, hallway or reception area:
Here we recommend you a strikingly large office plant like the Monstera minima in XXL or an eye-catching Eufeutute XXL.
Reception, reception or counter area:
When space is limited, we go for medium-sized evergreen plants like the monocot or a beautiful orchid. Here our assortment offers you a great selection of typical office plants.
Conference room, windowless hallway:
When buying your new plant, make sure it doesn't need direct sunlight. Plants tend to be neglected in locations without direct sunlight, so it should be able to get by with little water. Without hesitation, we recommend the Glücksfeder here. Good to know: the darker its location, the darker its greenery.
Open plan office:
In an open-plan office, it makes sense to buy a set of different plants. Because here sunny and shady places alternate and we need plants with air purifying effect.
Large plants provide a better indoor climate and medium-sized plants provide great accents and awaken your creative spirits. Our air-purifying plant friends are the top choice here. For accents on or in shelves, we go for the trendy Pilea in a set of two.
Order plants for the office
You can pay our office plants quickly and easily by invoice and many other payment methods and have them delivered directly to your workplace.
For many office plants we give you a free planter. Ordering office plants online is therefore very uncomplicated. It's that simple:
Choose your most beautiful office plant and put it in the shopping cart.
As the next step you can select your desired delivery date
Enter your company address and billing address and choose the appropriate payment method
Our tip: If you create a customer account, your data will be saved in your personal address book.
Our gift idea for the new plant
Office plants also make excellent gifts. If you like, you can choose from chocolate or other small gift ideas. How about chocolates to snack on?
Use our free greeting card or upload your personal video message to send a few kind words. The recipient will be very happy about this special and personal gesture.
Easy care plant for the office: in three steps
Our plants are ordered in just three clicks and will be delivered safely and quickly to your desired location. You can also use our free greeting card or video message to surprise a dear colleague or the boss.
Ordering your plant online and having it delivered is easy: choose your most beautiful plant for the office from our assortment. Enter your address, the desired delivery date and choose the payment method. That's it.
Of course you can also pay by credit card or Paypal. All common means of payment are open to you. For every occasion and almost every day.
By the way, our office plants are delivered throughout Germany with our shipping partner DHL. If you order your plants today, you can look forward to the delivery tomorrow.
Order office plants online and have them delivered
Let's be honest: The workplace is usually a rather dull place, but it is so easy to give the office color - with office plants. On this page you will find selected office plants that fit on any table and shelf. They are easy to care for and require little light. This means that they can be placed in the shade with a clear conscience.
Our office plants are ideal for creating a pleasant atmosphere in the office, store, and public areas. Study rooms and offices especially need a lot of clean air to keep a clear head. Our office plants are true air purifiers, filtering pollutants from the air and thus purifying it. An easy-care office plant on the shelf, an uncomplicated office plant on the counter - et voilà, evergreen life is breathed into your four walls.
Which plants are suitable for the office?
Our selection includes monstera, lucky chestnuts, XXL plants or even rarities like a pineapple plant. Our office plants are quite happy with a little water and a location in partial shade. We'll be happy to help you choose the right office plants for you. Whether in a dark or light location.
The offer changes, depending on the seasonal availability of indoor plants. Especially in demand in the office or even in stores are aquatic plants, palms, evergreen plants and also the bow hemp Sansevieria is easy to care for and therefore very popular. Some plants are shipped in a planter or with a matching wicker basket. So with your plant order you will receive our complete set.
With us you can buy office plants that are suitable for any workplace.
Why are plants important in the office?
Office plants clean the air, because they filter pollutants and thus provide a better indoor climate. Plants have been proven to improve the mood of people in a room, promoting concentration and creativity.
By the way, plants also regulate the noise level in an open-plan office, because they intercept sounds. So office plants not only look good, they have very special functions at the same time.
Aquatic plants are part of the Urban Jungle in your home or even in your office. And this type of office plant does not need any care. It should only be supplied with fresh water from time to time.
To our water plants we deliver you directly the matching glass vase. These special plants have been rinsed and refined and are thus by the hydroponics, which shows the whole plant, a great eye-catcher on every reception and entrance hall.