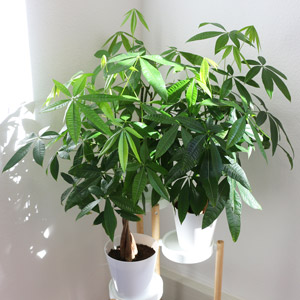 Buy plants online
Green plants bring great color accents. Whether in the living room, the office or the entrance hall. Plants look great in any room. Already knew?
Plants and their effect
Plants not only look good, they also have a healing effect on you. They can reduce stress, increase creativity or create a pleasant atmosphere.
Plants as a gift
Instead of a bouquet of flowers, you want to send a gift that lasts longer and still brings the same charm? Trendy plants are the perfect gift not only for all nature and garden lovers
---
Buying plants - The advantages of sending plants
Uncomplicated, fast and safe: You can order our evergreen plants online today and have them delivered tomorrow. You can buy extensions for your urban from the comfort of your home. We will ship them on time to your desired address.
With our express shipping, you can order your new green roommate the very next day or have it sent as a gift. With a friendly message in the free greeting card or with kind words in the video message, the plant order becomes even more personal.
Buy plants online with blumenshop.com. We make it possible for you to please your friends, family and colleagues and send a suitable houseplant as a gift.
Don't worry, we send plants and flowers only with a greeting card, the invoice is sent only by e-mail to you as the buyer.
A quality houseplant is always a nice gift for a guest, a birthday present, a housewarming gift or a business opening gift. We ship each houseplant for you in a sturdy and unbreakable cardboard box.
Buying plants online is easy from home. Blumenshop.com delivers to any address within Germany, the Netherlands and Belgium. We make shipping plants child's play.
Order flowering plants online - Germany wide
Give yourself a treat and therefore complete your own Urban Jungle within the home.
Surprise your family, friends or colleagues with a trendy evergreen plant: By the way, we deliver every plant including a free planter. So you don't have to worry about the completeness of your gift.
Plant care
The care of your evergreen pot plant should be uncomplicated and undemanding, no question. That's why we send a card with useful care tips with every order. In general, it is important that your plant is not in the shade or in the sun at any time of the day.
Any office or houseplant will do well in partial shade. Do not place houseplants near radiators. Regular watering and fertilizing should become part of your routine. With our care tips you will enjoy your plant for a long time.
If you don't have a green thumb and shy away from plant care, we have special specimens for you. Not all houseplants are high-maintenance. There are many low-maintenance plants that are also suitable for plant beginners or people without a green thumb.
Send plants - A little attention
A potted plant not only looks good, it also cleans up the indoor environment considerably. It also makes for a better sound in an open-plan office, has been proven to reduce stress and invigorate our creative spirits.
Ordering plants for your bedroom, living room, or office will improve air quality naturally. Want to improve indoor air?
A monstera, tree aloe, and flamingo flower are your plants. In addition to the potential health benefits, the evergreens in our potted plants are wonderful to order as decor. Buying a houseplant means beautifying your home in a sustainable way.
Exotic like the elephant foot or traditional like an orchid?
Which type of plant are you? With us you will find a variety of evergreen, flowering plants for the apartment or even the outdoor area. Whether pineapple plant, tree aloe, orchid, elephant foot, bow hemp, Kentia palm, Hoya wax tree in plastic planter or glass vase - convince yourself of our plant shipping with our freshness promise.
Buy plant by plant shipping is doubly good: get delivered decor that is both useful and beautiful. Because in addition to their great looks, a green plant provides fresh air and a pleasant and modern ambience.
Sometimes it may be a little more: Houseplants are the living trend of recent years. In addition to classic plants, rare or special plants, such as the banana plant, the flamingo flower in the water or a pineapple plant are allowed.
With these trendy plants, conversation is guaranteed. And it is precisely because these houseplants are so unusual that they make excellent gifts: just pick them out, enter your details, off you go to pay, and you're done. This makes giving presents fun.
Order plants - online and secure
Beautify your home - Our offer includes green treasures for the living room, the balcony or the workplace. You are unsure and ask yourself: Which plants to buy? Here are our tips:
You can find classic plants in the menu item houseplants. Here you will find plants for everyone who likes it down to earth. We have put together some particularly trendy plants for you in the Urban Jungle section.
Large plants can be found in the Large houseplants section. Of course you will also find pet-friendly houseplants and plants for outdoors in our assortment.
In addition, you can find plants for your balcony or garden in our assortment.
Important to know: Our offer changes. You can order our plants according to seasonal availability. So blumenshop.com offers the best plants with planter at the best price!