Colorful, fresh and uncomplicated - that's us: Your flower delivery blumenshop.com. With us you can prepare your loved ones within Germany, the Netherlands and Belgium a flowery surprise and all this easily from home or on the road - order your flowers and houseplants conveniently online.
Our passion:
Flowers have always been a gift with which to express feelings of gratitude, love and appreciation to those close to your heart. We believe in the power of flowers and their language. That's why we offer the best flowers at the best price, so you can enjoy giving them.
Our flowers and plants:
With our bouquets we want to give joy and that for every occasion. Our seasonal cut flowers come directly from the grower and are tied with love and care by our floristry professionals.
Through a seamless supply chain, we send fresh vase-ready cut flowers, thank you bouquets, Mother's Day classics and cheerful birthday flowers. We ship all of our bouquets with a 7-day freshness promise.
In addition to fresh cut flowers, we offer you a wide range of plants at blumenshop.com. From indoor plants to office plants or XXL plants, you will find a variety of green friends waiting to make your plant heart beat faster.
Our florists and home designers work hand in hand to put together the latest floral and living trends for you each season. For example, indoor and office plants are offered directly in a selection of cachepots and accessories, and matching vases are also available for the cut flowers. In addition, the latest trends can always be found in our assortments for annual occasions such as Christmas, flowers for Mother's Day or flowers for Valentine's Day.
In our video you can see the way of your flower order from the grower to the recipient:
Our service:
With our flowers and plants shipping we are your contact, for the shipping of fresh bouquets, indoor and office plants and gifts. With your order we offer you the following services:
Free greeting card or video message
Leave a lovely message for the recipient on our free greeting card. This will be enclosed with the order in an additional envelope. You can write the message directly in the text field "Personal greeting text".
Please note that only Latin characters can be printed on the greeting card. Other characters (e.g. non-European characters, emoji and others) may not print correctly.
In addition to the greeting card, we also offer you the service of a video message. Record a personalized message for your loved ones. The message can be accessed via a QR code, which is printed in a card and included with the order. You can find more information about our video message at: Send video message.
You would prefer to send your order anonymously? We explain how to do this under: Send flowers anonymously.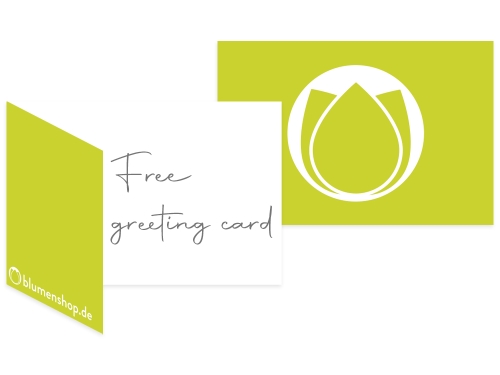 Flower greeting with gift
If you like, you can refine your order with a small gift.
In addition to matching vases for your bouquet, you will find a selection of chocolates and chocolates in our store. You can also surprise your loved one with a cute cuddly toy or a colorful gift mug, or express your love in the form of a gift card.
Our freshness promise
Because we are convinced of the quality of our products, we offer you various freshness promises. For example, we offer a 7-day freshness promise for bouquets and a 30-day freshness promise for plants. How exactly we can keep this, you can find out under "The Blumenshop-Freshness-Promise".
Fresh from the grower
In order to guarantee freshness, we try to keep our supply chain as short as possible. For this reason, we avoid unnecessary stops during the production of your bouquet. You can find out more about this under "Flowers fresh from the grower".
Delivery on the day of your choice
With us you can order your flower greeting on the desired delivery day and have it delivered. We offer various shipping options for your order. Choose from the standard shipping or the premium express shipping. Our delivery areas include Germany, the Netherlands and Belgium.
Please note that your bouquet will always be freshly and lovingly tied, packed and shipped the day before the desired delivery date. Plants are also shipped the day before the desired delivery date. You can find more about our delivery in our delivery information.