Sale!
Christmas flowers for a festive mood
Wonderful Christmas time! The days are getting shorter and we spend especially much time with our loved ones in the warm house and apartment. For this reason, we make it especially cozy and want to sweeten the joy of Christmas with Christmas flowers.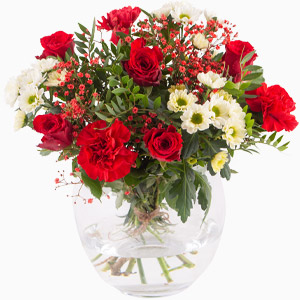 The Christmas flowers from blumenshop.de are often decorated in the bouquet with Christmas balls, pine cones and the like and shine especially in the festive red, green and white. Christmas bouquets are available in a variety of sizes and shapes - from classic- round bound to modern- loose, tiered bound.
If you don't have time to stock up on Christmas decorations, you've come to the right place. Blumenshop.de sends the most beautiful Christmas bouquets, so that you also receive suitable flowers fresh from the grower for Christmas.
Delight your loved ones with a Christmas gift and therefore send a Christmas bouquet online with our flower delivery service.
Flowers as a Christmas greeting
Sometimes it happens that you can not go to your loved ones at Christmas for a variety of reasons. However, you can surprise them. Imagine sending a beautiful Christmas bouquet to your family. You can complete the gift with a personal message in the form of a free greeting card or a personalized video message.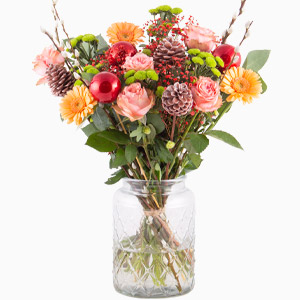 Flowers give comfort and show appreciation. So they're just the right gift if you can't be there in person this holiday season. We support you and have prepared, in addition to fresh flowers, a nice selection of special gift ideas for a creative Christmas greeting.
Good friends are also happy about a Christmas flower greeting in December. A festive bouquet with a chocolate or a cup can be ideally given away in the pre-Christmas period. Whether gifts, wreaths, or flowers, order your Advent and Christmas greeting now!
Send Christmas bouquet
Your winter and Christmas flowers are freshly tied by our florists the day before the delivery date. In our specially developed shipping box, the flower store florists send your ready-bound Christmas bouquet in less than 24 hours. Your flower greeting can be sent to private addresses, as well as business and public institutions throughout Germany.
After delivery you will receive a tracking e-mail. Thus, every movement of your Christmas bouquet can be tracked and the exact time of delivery is indicated there. We deliver all over Germany. Your Christmas flowers can be delivered to Hamburg, Munich, Cologne, Berlin or Frankfurt tomorrow if you order by 3pm today.
So what are you waiting for? Send flowers for Christmas now!
Christmas greetings with every order
Once you've chosen your Christmas flowers, you can leave a lovely message for the recipient. Simply use our free, high-quality greeting card to do so. Each greeting card is enclosed with the order in an extra envelope and greatly increases the surprise effect.
You can enter the message directly in the text field "Personal greeting text" in the shopping cart. By the way, you do not have to leave a message. Of course, you can also send your winter and Christmas greetings anonymously.
You want to make your Christmas flower greeting even more personal? Then send a free video message with your festive bouquet! You can find out how this works under: Send video message.
The entire blumenshop.de team wishes you a Merry Christmas and a Happy New Year.
Order Christmas bouquet online: How it works
Take your time and look around in our online store: Every Christmas bouquet is of the highest quality. You can schedule your delivery at checkout and choose your preferred delivery date. This is how it works:
In the category: Choose your Christmas items.
On the product page: Add the Christmas item to your shopping cart by clicking "Order now".
At the checkout: Select a greeting text or video message and the desired delivery date.
Select payment method and order for a fee
And your Christmas bouquet is already on its way to the recipient, where it will bring joy.