Buy orange tulips
Spring has begun and with it tulips come back into the program, and so do we. Because what could be more beautiful than a wonderful bouquet of tulips? Especially in a bright orange. Especially tulips in orange radiate a certain warmth and cheerfulness, which makes them a wonderful gift to your loved ones.
What are you waiting for? Bring spring into your home now with our bright tulip bouquets.
Orange tulips meaning
You want to give orange tulips as a gift and now you are wondering what you are actually saying with your tulip bouquet? We will tell you! Orange tulips stand for fascination. So if you know someone who fascinates you, orange tulips are just the right gift for them.
Furthermore, they also stand for optimism and due to their strong color they also express strength, courage and creativity. So they are the perfect gift to dear people to whom you want to give a little strength.
But not only that, orange tulips also stand for cheerfulness, because their bright color exudes good mood. Order a bunch of good mood now!
Orange tulips for any occasion
With their bright color, orange tulips are a welcome guest on any joyous occasion. Whether it's a birthday gift, a special anniversary, a thank you, or just because - orange tulips are always a great choice.
We're sure you'll make the recipient's eyes sparkle with these brightly colored tulips. Give a piece of spring today and put someone in a good mood!
Tulips types
All in all, there are about 4,200 different varieties of tulips today. However, to make it easier to distinguish between them, they have been classified into 15 classes.
For example, there are simple early tulips, double tulips, fringed tulips, triumph tulips, lily-flowered tulips and parrot tulips. For the most part, you'll find the easy tulips in a variety of colors, such as orange.
Easy order and delivery of orange tulips
At our online store, blumenshop.de, you can easily order orange tulips online and have them delivered. We will tell you the few steps it takes to get your tulips to the recipient:
Choose your favorite orange tulip bouquet and add it to the shopping cart.
Decide in the shopping cart whether you would like to send a free greeting card or video message with it
In the checkout area, enter the delivery address, the desired delivery date and a payment method.
And you have easily placed your order.
Orange tulips with gift
Add value to your flower delivery with a gift. Send a matching tulip bouquet with a small gift such as chocolate, cuddly toys or a gift mug.
If you know that the recipient does not have a suitable vase at home, we can offer you a remedy. Here you will find suitable vases for your orange tulip bouquet.
Send orange tulips all over Germany
You can't visit your loved ones or you are not near them? We can help you to be close to your loved ones. With our flower delivery service, you can send joy of life and good mood in the form of orange tulips and thus ensure shining eyes.
Whether Berlin, Hamburg or Kiel - we send together with our shipping partner orange tulips throughout Germany. Whether mainland or islands with us you can prepare your favorite people throughout Germany a joy.
Our top 3 orange tulip bouquets
Can't decide which orange tulip bouquet to send? Then we will be happy to help you:
Wild Tulips Bouquet
In a beautiful combination of cherry blossoms and orange tulips, our Wild Tulip bouquet shines. It will bring spring to your table decorations or is also great to give as a gift to friends and family. The cherry blossoms in particular are something special in this bouquet.
Bulb Bouquet Orange - tulip bouquet with bulbs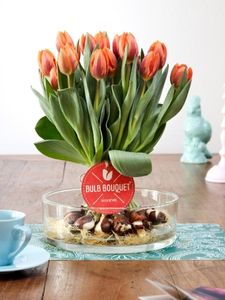 You want it to be extraordinary and fascinating? Then our Bulb Bouquet in orange is exactly the right choice for you! Because this tulip bouquet is harvested and shipped with its bulbs. Because of this peculiarity, our Bulb Bouquet is a bouquet that you don't see every day.
Because of this, this orange tulip bouquet is especially great to give to friends, as it will make the hearts of flower lovers beat faster.
30 Orange tulips
Do you want orange tulips from Holland? Then our bouquet of 30 orange tulips is just the thing for you. This sea of flowers fresh from the Netherlands will help you bring spring into your home or that of the recipient. It also exudes the feeling of the fresh tulip fields from Holland.