Sale!

Sale!

Sale!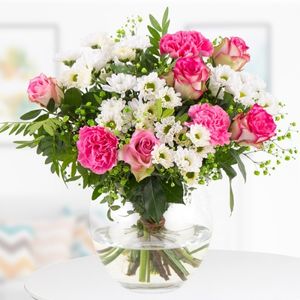 Buy cheap flowers
You want to please your loved ones and make them happy with a small floral surprise?
Then try it with a small bouquet of flowers, because it does not always have to be expensive.
The best flowers at the best price
With us you will find a lot of quality even for a small price.
We always try to offer you the best value for money. For this reason, you get a 7-days-freshness-promise on all bouquets.
Cheap flower offers
Besides small bouquets, you can also find seasonal offers, which you can order for a low price.
Whether sunflowers, roses or bulbs - let yourself be surprised by our cheap offers.
---
Buy flowers cheap by seasonal offer
Beautiful bouquets of flowers do not always have to be expensive, with us you can also find cheap bouquets. We are happy to offer you seasonal bouquets, which we can temporarily offer you at a low price, depending on the supply and demand in the season.
Every month we put together an assortment of beautiful bouquets, as well as inexpensive plants, which we can offer to you regularly or in the offer favorably.
So it makes sense to take a look around our product range and find the right bouquet for you. Buying fresh flowers at a discount is twice as much fun, because who doesn't love a good bargain?
Among our offers you will find a cheap selection of roses, colorful gerberas, carnations, classic bouquets or even field flower bouquets at the best price. In our online store you will stumble across one or the other low price every now and then. By the way, even if the prices are low, we still guarantee you the best quality of your flower greeting.
Your fresh bouquet for a small purse
Attention flower lover: Fresh flowers make demonstrably happy, we need more of it, and here's bouquets cheap to order with our freshness promise. The florists in our online store have put together a great selection of small and large inexpensive bouquets for you.
Send flowers cheap - you will find here for every occasion the right flowers and plants for a small purse.
If you want to send flowers free of charge, you will receive free shipping by DHL standard shipping from a minimum order value of 80 €. In addition to cheap bouquets, you can also find other top sellers or large bouquets that fit any occasion. Be quick and give joy today with a lovingly bound flower greeting!
Our assortment includes fresh cut flowers and houseplants at a top price. Plus, you can find great gifts like chocolates and plush toys with us to add to your order. No vase in the house? Don't worry, order the matching vase for your bouquet directly and have it delivered together with your great value bouquet.
Did you know? We'll send you a free planter with all our houseplants.
Send flowers cheap
You want to buy flowers cheap? Then you are exactly right with us! Because this is what awaits you in our flower store:
Bouquets for little money
Free greeting card or video message
Send cheap flowers - quality for little money
With us you can find a whole range of cheap products. 24 hours a day, 365 days a year you can order flowers online. In our store you can save on sending flowers and give joy.
Our inexpensive assortment includes fresh and high-quality cut flowers and houseplants, which we can regularly offer you at reduced prices. We assure you that you can send high quality flowers cheaply with us.
Order flower gifts at a low price
Imagine that the letter carrier arrives at your door and hands you a big package containing a beautiful bouquet of flowers and a high-quality greeting card.
A great surprise, isn't it? If you too would like to give a loved one a special treat, then choose a beautiful bouquet of flowers and we will take care of the rest.
Our shipping partner DHL will take care of the shipping and the flowers can be delivered the very next day. Ordering flowers cheap online is uncomplicated and fun. When was the last time you gave joy? Now it's time! Surprise your loved ones!
We send the best flowers at the best price
You have many birthdays or other occasions for a flower greeting in a month and the wallet is shrinking? Don't worry: our cheap bouquets are your solution! We offer you fresh and high quality flowers at a slim price.
We are sure that you will find the right gift for your loved ones in this assortment. We want to sweeten your day with a good offer and therefore we like to offer our flowers once at a low price.
Check back often, because our offers change from time to time and you can benefit from different bargains. With us you can buy fresh flowers and thus give joy. The best part? With us you can also save money.
Choose your favorite product from our offers and add it to your shopping cart. In the checkout area you can choose your preferred delivery date.
Our florists will tie your bouquet fresh on the day of shipment and send your bouquet on its way. Send with us cheap and easy your bouquet of flowers and give joy. Order flowers online now!