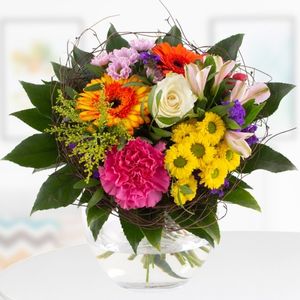 Send a bouquet of flowers
Flowers have long been a sign of attention and serve as a nice gesture. For this reason, bouquets of flowers are often given as gifts on various occasions.
You can surprise your loved ones for a birthday, anniversary, Mother's Day or just like that with a wonderful bouquet of flowers.
Bouquets by color
With us you will find a wide selection of bouquets in different colors.
From colorful flowers, to yellow or orange bouquets - send a colorful bouquet today.
Pink, red or white bouquets are also included in our assortment to make your eyes sparkle.
Seasonal bouquets
Now the most magnificent autumn flowers are available for you. Bright flower arrangements in shades of orange, yellow and red reflect the autumnal colors and conjure up this atmosphere in your own four walls.
In addition to seasonal highlights, our assortment includes classic bouquets, XXL bouquets and bouquets with a gift.
---
Order flowers online with blumenshop.com
You want to send a bouquet of flowers conveniently? It's easy with blumenshop.com! Thanks to delivery on the desired date, you can give a flower greeting to your loved ones in no time. Furthermore, our online flower delivery trumps with fair prices and seasonal flowers.
Flowers have always been a welcome gift. Whether as a small gift or for a special occasion, with flowers you always make the recipient happy. In addition, flowers are a great way to express your feelings.
A flower bouquet for every taste
Whether small or large, elegant or colorful, with us you can always order online the right bouquet. We deliver any kind of flower greeting to your home and offer you a wide selection of different bouquets.
Classic bouquets like Biedermeier bouquets are more your taste? We have a large selection for you. You like your bouquet modern? Then check out our selection of field flower bouquets and be enchanted by chamomile, lisianthus and snapdragons.
Our florist team also creates new bouquets every season from the most beautiful flowers of the season. So in the cozy season you can find various winter flowers in our assortment.
In spring you will be greeted by tulips, hyacinths and ranunculus. In the summer months you will find sunflowers, peonies and hydrangeas. The golden season enchants with dahlias and gladioli.
Buy a bouquet online now!
Send a bouquet with a variety of flower types
Are you a lover of a particular type of flower? Then you will surely find what you are looking for. We offer you pure mono bouquets of flower types such as roses, sunflowers, peonies or even calendulas.
You prefer mixed bouquets? Here too we offer you a wide selection. Whether roses combined with chrysanthemums and gerberas or lilies in combination with eucalyptus, with us everyone will find his favorite bouquet.
Send fresh flowers with a gift
Order a gift such as chocolate, a gift cup or a cuddly toy in addition to a freshly bound bouquet and make your flower greeting something very special.
In addition to gifts, we also offer matching vases to our bouquets, should you already know that the recipient does not have a vase at home.
Round off your flower greeting with a free greeting card in which you leave a personal greeting. Alternatively, you can have a video message sent with your order.
What are you waiting for? Buy a bouquet now!
Don't forget to sign up for our newsletter during the checkout process so you'll hear about our great promotions, contests, flower trends and gift ideas before anyone else.
Send flowers to your loved ones and spread joy
Ordering a beautiful bouquet in advance will never let you forget about birthdays, Valentine's Day or Mother's Day. Blumenshop.com delivers beautiful bouquets on time, so you can be sure to earn karma points.
Orders placed in advance will be forwarded to our florists only the day before the day of your desired delivery. They then bind your flower greetings freshly and with much love and send your flower greeting without intermediate station to the presentee.
The delivery of your bouquet is carried out by our partner DHL and can even be delivered the following day if you order online before 3 pm.
Sweeten the day for you and your loved ones, give joy with fresh bouquets!
Have flowers delivered for any occasion
We offer suitable bouquets for every occasion. Whether for a birthday, Mother's Day, Valentine's Day or as a gift for moving house - flowers are always a good choice. We tell you which ones are especially good for certain occasions:
Flowers can express your love for you on Valentine's Day or Women's Day. Especially red flowers such as red roses, carnations or chrysanthemums are particularly suitable here.
For a birthday, you can best send a colorful bouquet of flowers. This stands for joy of life and therefore conveys a good mood. Otherwise, however, you can also order a bouquet in the favorite color of the birthday child and send.
For Mother's Day, colorful bouquets are also preferred. Generally, however, you can choose what you want. Whether pink roses, yellow bouquets or colorful gerberas - everything is allowed, there are no limits.
Generally speaking, you decide how much a bouquet may cost and what color scheme should be sublime.
What are you waiting for? Order flowers online now and give them away for the right occasion.
Flowers bouquet can be delivered anywhere in Germany
With our online store, we make it possible for you to give your family, friends and acquaintances throughout Germany. You can not be with them because you live too far away or are prevented? No problem! We are there for you and deliver your bouquet on your behalf.
Whether Berlin, Hamburg, Cologne, Frankfurt or Munich, you can send a bouquet of fresh flowers for any occasion throughout Germany. If desired, directly on the day after your order.
---
Frequently asked questions about flower bouquets:
What are the most popular flowers?
Some of the most popular flowers are roses, lilies, gerberas, orchids, tulips and sunflowers.
However, their popularity can vary depending on personal taste. That is why it is always advisable to choose a bouquet with the favorite flowers of the person receiving the gift.
How long does a bouquet last?
We give a 7-day-freshness-promise on our bouquets. With our care tips, you can enjoy the flowers even longer:
Cut the flower stems.
Remember to change the water regularly.
Keep your flowers out of direct sunlight.
Which cut flowers last the longest?
Not all cut flowers wilt at the same rate in the vase. Some types, such as peruvian lilies, chrysanthemums, carnations, and lilies, are especially known for maintaining their freshness and beauty over a long period of time. With proper care, such as regular water changes and a cool location, these flowers can often remain in full glory for up to two weeks.
What is the cost of a beautiful bouquet of flowers?
Depending on the types of flowers, size, occasion and relationship with the recipient, the cost of a bouquet can vary greatly. As a guide, you can take the following prices:
Thank you flowers, housewarming or just like that: 25 - 35 €.
Birthday, apology: 30 - 50 €
Get well soon, birth: 30 - 40 €
Wedding: 50 - 60 €
Funeral flowers, anniversary: 60 - 70 €
What kind of bouquets are there?
Classic bouquets: This type of bouquet often has a round shape and consists of carefully arranged flowers (Biedermeier bouquet). They are usually very elegant and traditional.
Field flower bouquets: These bouquets mimic the look of flowers picked at random from a field. They often have a loose, natural style and can include a variety of flowers and grasses.
Mono bouquets: These bouquets consist of only one type of flower. For example, a rose mono bouquet would be one that consists solely of roses.
Mix bouquets: These bouquets combine different types of flowers in one arrangement, resulting in a vibrant and often colorful appearance.
Seasonal bouquets: These bouquets are made from flowers that bloom at a specific time of year. For example, a spring bouquet might include tulips and ranunculus, while an autumn bouquet might include chrysanthemums and asters.