Sale!

Sale!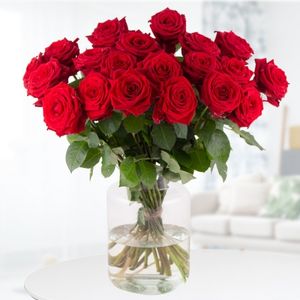 Order bouquet of roses
Roses are the queen of flowers, especially red roses enjoy great popularity.
Mostly they are given away in the sign of love, to express feelings through the flowers.
However, the different colors of the rose have different meanings.
Buy roses online
Roses you can buy from us in different colors:
---
Order roses: Roses make you happy
It's actually true that the sight of a bouquet of roses makes you happy. So if you want to please a special person, you will do everything right with fresh roses.
This beautiful flower originated in China and is not the queen of flowers for nothing. Roses come in many different shapes, colors and varieties and are an emotional gift, especially among lovers.
With us you will find a beautiful selection of the popular flowers in the form of premium roses, mixed bouquets with roses or any number for an anniversary or birthday, which we will carefully tie and send fresh to you or your desired recipient.
Send a bouquet of roses - the perfect gift
She is majestic, popular and considered the undisputed beauty queen. This makes a bouquet of roses always the ideal gift to make a powerful impression. You can order roses for Valentine's Day to enchant your sweetheart in a classic and romantic way or by sending roses if you are not near your sweetheart.
A mixed bunch of roses in red, pink or yellow is also a wonderful gift for Mother's Day. Even without an occasion, our flower delivery service is always a safe way to put a smile on the face of others.
Because to order roses conveniently online and have them delivered throughout Germany is to surprise and delight your loved ones unexpectedly. If you like, add a small gift, such as a vase, chocolate or a meaningful cup.
We take care of everything around your flowers, including shipping and on-time delivery. Surprise your loved ones on their special day with a fresh bouquet of roses.
Send your fresh rose bouquet with us and add a personal text on your free greeting card to make your order even more personal. If you like, you can simply upload a beautiful or funny video, which the recipient can then watch again and again. The video can then be accessed with a QR code.
Send roses for Valentine's Day
Since red roses stand for love, they are of course a welcome gift, especially on Valentine's Day, the day when everything revolves around love. But how big should the love bouquet be?
Did you know that the different numbers of roses also have a meaning? For example, one rose means love at first sight. Three roses, on the other hand, mean the magic three words - I love you! 20 red roses stand for a sincere love and 21 roses, on the other hand, for loyalty.
Higher numbers, such as 50 roses stand for gratitude to the partner against. With 99 red roses you express a lifelong love and with 101 rose you ask the question of all questions - Will you marry me?
Roses and their meaning
In symbolism, roses speak the language of love. Red roses stand for deep affection and true love while white roses stand for purity and innocence. If you send white roses, they can also stand for eternal love. So a bouquet of high quality roses is always a special gift for engagement, wedding anniversary or Valentine's Day.
By the way, each rose color is said to have a certain meaning. Pink roses generally represent the beginning and happiness. Therefore, the especially suitable as a gift in a fresh relationship, so as to express his feeling.
To gift friends, florists usually advise a fresher rose color such as yellow and orange. Because just yellow roses stand for solidarity, which again emphasizes the message. Orange roses stand for sympathy and appreciation, which one brings to his friends.
However, if the color symbolism does not help you, our florists recommend buying a colorful bouquet of roses, because this will certainly be received with a smile and is therefore wonderful to send as a gift.
Ordering roses online - tips for freshness
If you want to enjoy your fresh roses for a long time, here are little tricks to help you do so.
After arrival, give your rose bouquet time to unfold and first provide it with fresh, lukewarm water. Cut the stems of your roses at an angle with a sharp knife or flower scissors, this way the flower will absorb the water better. Remove leaves that are in the water to prevent bacteria from forming.
You'll also provide the roses with important minerals with the cut flower food provided. The choice of flower vase is also important. Rose bouquets should be placed loosely in a vase with space between each flower. This is because the more loosely the bouquet is placed, the longer it will last.
Send roses in a big way
Since roses are a symbol of love, it's obvious that you give this beautiful flower to the person in your heart. Now the question is, how many roses should you send? Here applies a sprawling sea of flowers provides for shining eyes. Your bouquet of roses can therefore be large.
Here we recommend a bouquet with our premium roses of the variety Red Naomi. This type of rose impresses with large flowers and a long stem in height 60 cm and is even available as XXL bouquet with up to 100 roses.
Send roses now!