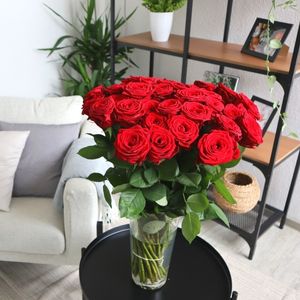 Red flowers Meaning
The color red represents true love, affection, respect and passion. Especially among lovers people like to give each other red flowers to show their affection.
---
What do red flowers stand for?
The color red is undisputedly the color of romance and love. So it's no wonder that red flowers are popular for expressing one's feelings.
When choosing the color of your bouquet, pay attention to who you want to send your bouquet to. A red bouquet is especially suitable for your partner. Red roses are also perfect as a wedding bouquet.
For centuries, those who cannot express their affection in words have been conveying their message with the help of the language of flowers. Although our red flowers speak for themselves, you can leave a message for your loved ones with the free greeting card.
Different types of red flowers order online
A flower with a large red bloom and clearly the queen among red flowers is the rose. By the way, this is also one of the most popular cut flowers. Red roses stand for love and therefore especially popular with lovers.
A bouquet of red tulips is also very popular. Especially in spring, tulips with bold red flowers make their appearance and enchant the recipient. They also, like the rose, represent love and can be given well to people who do not like roses.
Red gerberas also convey love and affection and are welcome guests in mixed bouquets. Especially in combination with yellow and orange flowers, a red gerbera does very well.
Red flowers with a promise of freshness
We bind our fresh flower bouquets with a lot of heart and love. That's why we give all our bouquets a 7-day freshness promise.
On the day of shipment, your red bouquet will be freshly assembled and carefully tied by our florists. The hand-tied bouquets are packed and delivered to DHL on the same day. In our package you will also find care tips that will help your flowers feel good for a long time.
Your red bouquet can be delivered to any German city, Belgium or the Netherlands. For an island delivery, we recommend that you specify one day earlier as the desired delivery date, as the delivery may be delayed.
Give a gift of red flowers
With our red flowers you can choose an additional gift and send it along with a free greeting card or video message to a special person.
You can also send chocolate, a cute card, a mug or a cuddly toy to add a little extra value to your flower gift. What are you waiting for? Order a red flower bouquet now.
Our top 3 bouquets in red
Still unsure which red flower bouquet suits you best? Find here a selection of our top 3 bouquets with red flowers:
Red Premium Roses
Something very special for a special person - premium roses. Our rose bouquets make you happy - send up to 100 red roses as a love greeting for a birthday, wedding anniversary or as a small gift.
Flower bouquet Süße Romanze
Red roses, white and pink snapdragons together with Japanese roses and green eucalyptus can be found in our bouquet Süße Romanze. The colors harmonize perfectly with each other to create a romantic bouquet in red.
Flower bouquet Ava
Consisting of red roses, carnations and gerberas, our bouquet Ava is a feast for the eyes. In addition, you can find white highlights in this bouquet in the form of chrysanthemums. Be quick and secure this floral beauty today!
Show love & affection with red flowers
You can easily express affection, love, respect and passion with our red flowers. In just 4 steps, you can bring joy to your partner:
Select your red flowers to send.
Add a free greeting text if you wish.
Enter the correct shipping address of the recipient.
Choose your preferred delivery date.