A 50th birthday with the most beautiful flowers
For the 50th birthday, it may be a little more - and here come our gift ideas for this very special day, because who turns half a century old, has experienced a lot in life and may be proud of all that has been achieved. So on this day, life is celebrated extensively and appropriately. And what should not be missing on this special 50th birthday? That's right, flowers!
Worldwide, 50th birthday flowers are the most popular gift of all. Who is unsure which bouquet is suitable for the 50th birthday, finds here a little guidance.
The 50th birthday is celebrated with a bouquet of flowers
So the 50th birthday may be started quite calmly and when the courier rings in the morning, it comes immediately to the wonderful surprise. Just in time for the desired delivery date, the most beautiful flowers for the 50th birthday are handed over. With this surprise, the birthday will be simply unforgettable and the birthday child may not only enjoy flowers, but may find other gifts in the package in the form of high-quality delicious chocolate, a funny cup and a QR code that leads to your personal video message.
Because after your order, you have the opportunity to upload a minute-long video message, which we will send to the person receiving the gift for the 50th birthday with the flowers. The day of honor may start with flowers and this gift will leave a lasting impression, for sure! Because flowers show your appreciation and stand for respect. Flowers are therefore popular gifts especially among women for 50th birthday.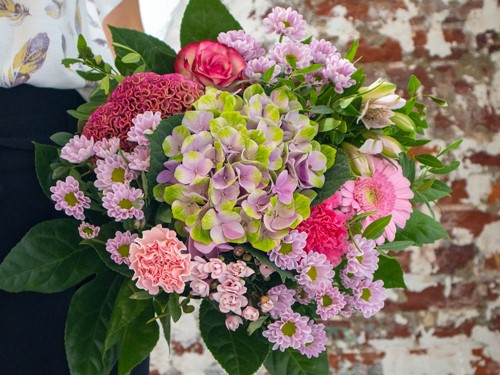 The 50th birthday of the wife and you are looking for flowers?
Your wife celebrates her 50th birthday and you want to surprise her with a bouquet of flowers? Great, then we show you now how your bouquet is delivered on time for your wife's special day. Because for the 50th birthday flowers are really a must!
Order flowers for 50th birthday:
Choose your most beautiful bouquet and add it to the shopping cart.
Enter a lovely message for the greeting card in the text field or choose to upload a video message.
Enter the correct shipping address and your billing address.
Select your wife's 50th birthday as the desired date for the flower delivery in the calendar.
Now you can choose between standard shipping and express shipping. Note that we can only guarantee delivery on the desired date with express delivery.
Decide on your preferred payment method and sit back and relax, because we will take care of the rest.
Personalized bouquets for 50th birthday
After your order of birthday flowers, you will receive a link to record and upload your personal and emotional birthday video message. You can record your video as many times as you want until you are one hundred percent satisfied. Simply upload it afterwards. The video will only be accessible to the person receiving the gift via a QR code. We will enclose the QR code with the flowers for the 50th birthday.
This is how it continues: On the day of dispatch, your flowers for the 50th birthday will be freshly bound and carefully packed. Our florists will work hard for you, creatively and carefully. After collection, the package with the fresh flowers will be delivered to your desired address. And from this point on, our high-quality flowers will make your eyes sparkle.
Flowers make happy: fact. Not only for the 50th birthday, but also for all other birthdays. Flowers stand for the awakening of nature, score with the most beautiful colors and a delicate fragrance and reduce the stress level. Sounds simply beautiful. And for sure you will contribute to make the 50th birthday simply unforgettable with a bouquet of flowers. That's something to be a little proud of.
Whether you choose high quality roses, elegant lilies, cute tulips or a colorful and wild field bouquet: The 50th birthday will be a highlight with flowers of any variety. Small tip: Our flowers are also delivered to the office and to every workplace throughout Germany. Surprise your favorite person on their 50th birthday with flowers. No matter where they are.