Sale!
The 60th birthday with flowers, flowers and more flowers
Flowers are the absolute symbol of beauty and vitality. They radiate colors and fragrance that enliven the senses and delight the hearts of people. Especially on an occasion like the 60th birthday, flowers are a popular gift. But why do people love flowers so much?
First of all, flowers are an expression of nature. Their delicate petals and the variety of their shapes and colors remind us how wonderful and diverse nature is. In a hectic world, flowers are a reminder to appreciate the beauty of nature. Especially for a 60th birthday, flowers have a special value because they convey how precious and special the birthday child is.
Flowers also have the unique ability to express emotions. Choosing the right flowers for a 60th birthday can express love, joy and gratitude. On a 60th birthday, flowers can have a special meaning as they express appreciation and love for the person who has reached this very special milestone.
A beautiful bouquet of flowers for the 60th birthday
A bouquet of flowers on the birthday table immediately gives the room a festive atmosphere. After all, flowers help stimulate our senses. Their scent can be soothing or stimulating and positively influence our mood. Looking at flowers brings pure joy. So a bouquet of flowers for the 60th birthday should not be missing in a suitable vase. Because only flowers bring festive mood into the house.
On a 60th birthday, flowers are therefore a perfect gift to appreciate all these aspects and show the birthday child how much they are appreciated. Flowers are an expression of love, gratitude and appreciation.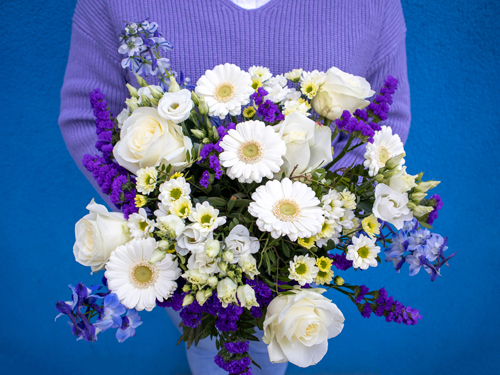 Our gift ideas for the 60th birthday
Flowers speak the language of love, that is well known. But if you want to look more intensively at the symbolism and meaning of flowers, here is a breakdown with a recommendation of suitable flowers for the 60th birthday.
Red flowers are a classic symbol of love and passion. Deep red rose is the most famous example of this meaning. A bouquet of red flowers expresses passion, romance and deep affection. Roses for the 60th birthday are a highlight.
White flowers, on the other hand, represent purity and innocence. They are often used at weddings to symbolize the purity of love between the bride and groom. White flowers also express comfort and compassion.
Yellow flowers symbolize friendship and happiness. They can also stand for cheerfulness and optimism. A bouquet of yellow flowers is a great way to surprise a friend with flowers for their 60th birthday.
Blue flowers represent tranquility and peace. They also express trust and loyalty. A gift of blue flowers can have a calming effect.
Purple flowers are associated with luxury and elegance. They often symbolize creativity and inspiration. A bouquet of purple flowers can be dedicated to a creative person or serve as a sign of admiration for someone. These flowers are very special for a 60th birthday.
Orange flowers represent energy and enthusiasm. They are perfect to express enthusiasm. Likewise, orange flowers are suitable for the 60th birthday.
Green flowers represent hope and freshness. They are often a symbol of new beginnings and growth.
Flowers for the 60th birthday of a woman
In the language of flowers, different colors and combinations of flowers can also convey other messages. However, regardless of the meaning of the color, flowers always carry a message of beauty and joy and have the power to express emotions in a unique way. Therefore, flowers are a timeless and valuable gift for a woman's 60th birthday.
Sending flowers for woman's 60th birthday is our gift idea for all late bloomers, shopping lazy and shopping tired people who still want to attract attention and give joy with a creative gift.
Choose your most beautiful bouquet of flowers and no three minutes later your gift search for the 60th birthday is already successfully done. Because from the purchase of flowers we take care of everything else and you can sit back and relax. That's how gift giving works today.
Order a beautiful bouquet of flowers for the 60th birthday of your favorite person now!