Sale!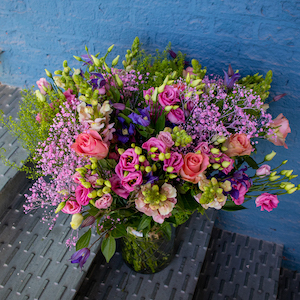 Buy a large flower bouquet
With us you will find numerous large bouquets of flowers in different colors.
You want to send directly a matching vase to your XXL bouquet? Then simply order an XL vase, which we will surely send with the bouquet.
Colorful XXL flower bouquets
Large bouquet of flowers for a birthday
Still looking for a birthday gift for a special person?
A large bouquet of flowers is the perfect gift! Just add chocolate, a colorful greeting card, a cup or a cuddly toy and bang your birthday gift is complete!
---
A large bouquet is something special
Whereas our main Send a Bouquet page features bouquets of all sizes and prices, here we bring you only the best of the best. All premium bouquets are a lush sea of blooms and the highest quality flowers. The bouquets have a stem length of around 70 centimeters and are arranged in a tall vase. You can't get enough of these exclusive and high quality flowers.
Large bouquet of roses, wildflowers or lilies
We offer you large bouquets in three styles - classic from roses, modern from wildflowers, or elegant from lilies. You want red roses for your sweetheart, preferably 100 of them? A large premium rose bouquet is no problem. Choose your favorite color from our giant rose bouquets and be amazed by the size of our premium bouquets. Just like our roses, our XXL wildflower bouquets as well as our champagne bouquet of white lilies have proven themselves. All these giant bouquets charm with quality and size.
Give a giant bouquet as a gift?
With our free greeting card, the exclusive order of your large bouquet can be further personalized. We also have great gift ideas to go with your premium bouquet. For example, how about a cuddly toy and a box of chocolates?
Giant bouquet tied by florists as a floral greeting
Our florists will tie your premium bouquet fresh on the day of shipment. So you can confidently plan your desired delivery date well in advance. If your wedding day is already on your mind, complete your online order and sit back and relax. On your wedding day we will deliver your flowers fresh and on time. Do you already know our extraordinary bouquet Jungle Rose?
This exotic looking bouquet from our premium segment will leave you amazed. The bouquet Jungle Rose is an absolute eye-catcher. The eye-catching bamboo in combination with roses and lisiathus is guaranteed to catch the eye. The combination of blue, white and green flowers harmonizes beautifully and looks especially beautiful in a tall vase. The bamboo can continue to be used as a decorative element for a long time.
Order a premium bouquet from large to huge online
Ordering large or even huge bouquets online is guaranteed to impress. Here you are exactly right to choose a large premium bouquet freshly tied by florists as shown. And works like this:
Choose your large floral greeting
Write a greeting card if you wish and write some greetings
Select delivery date & shipping address, done