The 80th birthday with flowers
Flowers are a timeless gift that suits any occasion. But especially for an 80th birthday, flowers have a special meaning. Here are some reasons why they are so special and the perfect 80th birthday gift:
For 80th birthday, flowers bring fresh color, lots of happiness and life to any room. Their vibrant colors and delicate petals create a warm and inviting atmosphere. They can transform the home of the jubilarian into a true floral paradise and give them a feeling of joy and liveliness.
Flowers for 80th birthday are versatile and suit all tastes. You can choose a bouquet according to the preferences of the jubilarian, be it with roses, lilies or meadow flowers. Each flower has its own meaning and beauty that you can use to express your wishes and thoughts.
Flowers and gift for 80th birthday
With us you will find not only beautiful bouquets for the birthday child, but also small gifts:
Our gifts round off your 80th birthday flower delivery perfectly and show the recipient how important they are to you. A small gift and a bouquet of flowers are guaranteed to make the birthday child's eyes sparkle!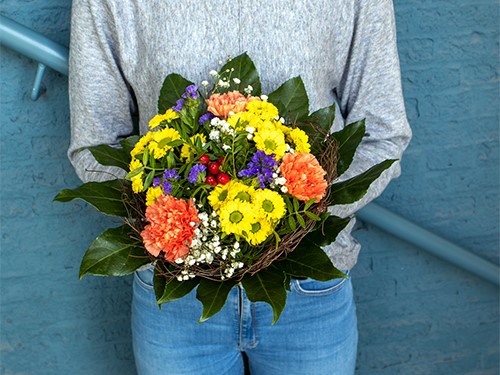 Flowers for 80th birthday: Your advantages
You want to order a bouquet of flowers for the 80th birthday and are unsure if this is the right choice? Don't worry, today we will explain to you the advantages of ordering your 80th birthday bouquet online and having it delivered on the desired delivery date. Because for you it means one thing above all: Saving time and money.
Ordering and sending flowers online for 80th birthday offers you many advantages:
It allows convenient shopping from home, saving time and effort.
We offer a wide selection of flower arrangements and styles, so you can easily find the perfect gift.
You can add a personalized message on the greeting card to express your wishes and thoughts warmly. This personalized touch adds extra meaning to the gift.
On-time 80th birthday delivery: Choose express shipping, where we guarantee delivery on the day of your choice.
We offer different price categories and sizes of flowers for 80th birthday. In addition, you can often benefit from offers and discounts with us.
Just choose your most beautiful bouquet for the 80th birthday and send colorful fresh happiness to a very special person.
Bouquet for 80th birthday
Fresh flowers are a timeless gift. No matter how old you get, the joy of a beautiful bouquet of flowers always remains. It brings joy and happiness to everyday life and reminds you of the beauty of life.
Colorful flowers are a wonderful 80th birthday gift that expresses emotion and brings joy. They are a token of love and appreciation that reminds the celebrant how special they are to you.
So, if you are looking for a special gift, don't hesitate to send flowers for 80th birthday and bring great joy to the birthday child.
Flowers represent love and affection. When you give flowers to a loved one on their 80th birthday, you are showing your gratitude and appreciation for all the years spent together.
Fresh flowers bring nature into your home and remind you of the beauty of the world around us. This can bring comfort and increase well-being, especially in later years when you may not be as mobile.
Order flowers for 80th birthday now!