Sale!

Sale!

Sale!

Sale!
Bouquet of flowers for 18th birthday
If you are looking for a trendy gift, flowers are the perfect gift idea. Especially the 18th birthday is probably the most important in our lives. This is a day we will never forget - all the nicer when the birthday boy or girl is showered with flowers for their birthday.
Imagine the following situation: Just in time for the 18th birthday, colorful and fresh flowers are delivered to the front door. The bouquet is neatly packed in a high-quality package, together with a beautiful greeting card and perhaps a delicious chocolate. A surprise 18th birthday flower delivery is very special because we all love unexpected gifts, don't we?
Little fun fact on the side: Flowers are the most popular gift for any occasion worldwide and in any culture. So 18th birthday flowers are our absolute heartfelt recommendation if someone is looking for a gift for a special someone. Among our most beautiful flowers, you are sure to find what you are looking for.
By the way, if you want to send the birthday flowers with a funny or emotional video message, the surprise effect is huge. Simply upload your personal video greeting after ordering and have it delivered - via QR code - to the birthday boy or girl.
Modern flowers for the birthday child
For those who are unsure which flowers are right for the 18th birthday, here is our recommendation. Trendy floral trends at the moment are mainly bouquets that are tied loosely and wildly. Large field flower bouquets that look like freshly picked are our highlight as a gift idea for men and women.
A loose boho style adorns not only fashion, but also our 18th birthday flowers. Eucalyptus, pampas grass and wild grasses can not be missing in the bouquets. When you receive flowers as a gift, you feel valuable and respected. Convey that special feeling with 18th birthday flowers.
All bouquets are tied fresh and just before shipping by our florists with a lot of love and creativity and carefully packed. The gift delivery will then be delivered on your desired delivery date. It is especially nice when the fresh bouquet is delivered on the 18th birthday.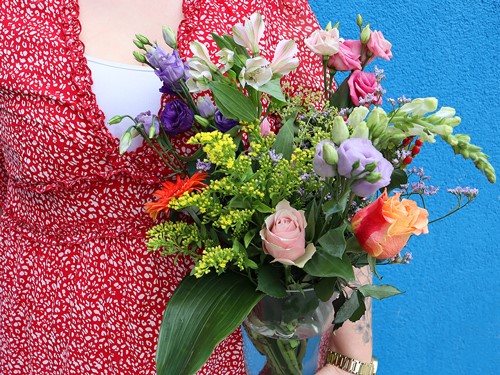 More 18th birthday gift ideas
A bouquet of flowers is not enough for you as a gift? Then spice up your floral greeting with a small gift. In our assortment you will find numerous gift items, which are perfect for a birthday:
Chocolate: Our chocolates will help you find the right words for the birthday. Our chocolate box "Lass dich feiern" and the Milka pralines "Alles Gute" express your heartfelt congratulations perfectly.
Greeting cards: Nothing says "Happy Birthday" like a beautiful greeting card.
Vases: Unsure if the birthday boy or girl has a matching vase for your floral greeting? No problem, we can gladly include a vase right away!
Cups: Whether it's coffee or tea, for many a hot beverage is part of the morning routine. How nice would it be if the birthday boy or girl can enjoy the new cup every morning?
Cuddly toys: Even though the 18th birthday is the beginning of adulthood, you can never go wrong with a cuddly teddy bear for the birthday.
If you don't like a bouquet of flowers for your 18th birthday, you can easily give a cool pineapple plant or a trendy exotic monstera. Did you know? Houseplants have been experiencing their great revival for years and are more fashionable than ever. Young adults in particular are embracing the green trend to decorate their rooms.
So a plant for the 18th birthday is also a good option. Safely packaged and evergreen, it will be delivered just in time for your 18th birthday. Remember your funny video message, only in this way your gift will be round and a great surprise.
Order flowers for 18th birthday online
The 18th birthday will remain unforgotten. The best gifts, the great party, time with the best friends and family. But there is one problem: You can not be there. We have a great solution how you can be there a little bit after all. Send an 18th birthday bouquet of flowers and surprise the birthday child with your congratulations.
In the personal video message you can sing a song to the recipient, share your joy and explain why you can't be there. A great and especially appreciative consolation, isn't it? A bouquet of flowers for the 18th birthday is therefore our number 1 gift idea, if it should be something special, but the order should be fast and uncomplicated.
Order today, receive flower delivery for 18th birthday. That's how happy birthday wishes work when you don't live in the same city and can't congratulate in person. Order a fresh bouquet of flowers for your 18th birthday today and score some points with this great gift idea.
Send your flowery delivery to the home address or surprise the birthday girl at work. Colleagues will be amazed. You can't go wrong with 18th birthday flowers, that's for sure.