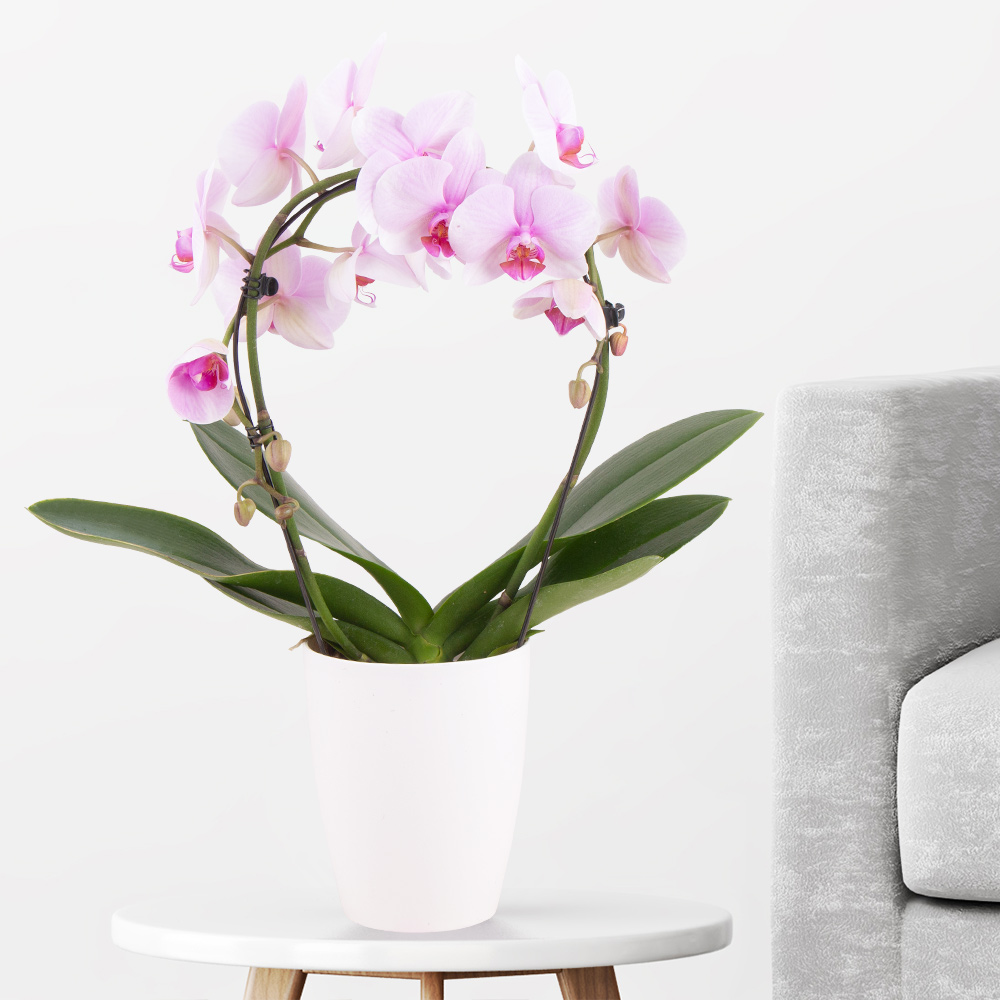 Buy orchids and give them as a gift
Orchids are among the most popular houseplants in Germany. That is why they are also the perfect gift for any occasion.
Their beautiful flowers make orchids something special. The recipient can thus enjoy the splendor of flowers for a long time.
Orchid care
The care of orchids is not so simple, but with the right care for your orchid, you can enjoy their beautiful flowers for a long time!
Orchids thrive in bright, indirect light with consistent humidity. It is important to avoid waterlogging and allow orchids to dry out between waterings. Orchids like moderate and stable temperatures.
---
Order orchids
You can order different orchids from us, so you don't have to worry about anything. We will provide you with a beautifully blooming orchid that will be safely packed and delivered to your home. You can order your favorite plant in just a few steps and add it to your urban jungle or home office.
By the way, orchids are in full bloom all year round and are therefore the ideal gift for good friends or family.
The orchid: the queen of flowers
The orchid is the most popular of all flowers. That's right, the orchid is a flower that is especially popular as an ornamental and houseplant. Among them, the Phalaenopsis, also known as the butterfly orchid, is probably the most fascinating variety of its kind. It has large beautiful flowers that grow and thrive especially well with the right care.
With us you can find the Phalaenopsis in the popular white, in the trendy purple and even with beautiful patterns in the petal. Welcome to the world of orchids.
Origin of the Phalaenopsis
There are about 30,000 species of orchids. They grow on other plants, on stone and on the ground. The tropical beauties like it especially in the shady tropical rainforest. By the way, in South America and Asia guard the most varieties of orchids in the world.
Sailors brought orchids to Europe and quickly it became extremely popular. Especially as a gift it is unbeatable.
Because in its symbolism it means admiration, passion and devotion. To this day, the butterfly or moth orchid is a highlight worldwide and is welcome in every living space and culture.
Orchids as a popular houseplant
The orchid is a beautiful houseplant that simply belongs in every living room. With us you will find orchids in various sizes, shapes and colors that could be with you tomorrow. We deliver your ornamental plant with matching planter quickly, safely and reliably.
You do not have to worry about anything. Ordering orchids from us is easier than ever. If you want to expand your Urban Jungle or want to start as a hobby gardener, you will find the right orchid with us, which, by the way, is already in full bloom.
What is the best way to care for an orchid? Place orchids in indirect light, water only when the substrate is dry and use special orchid substrate for healthy roots.
Orchids are not necessarily a beginner's plant, but you will notice relatively quickly what your new favorite plant likes or dislikes. If the location or humidity doesn't suit you, you can always move it.
Buy orchids - and now?
Orchids need special soil. This is more coarse-grained, so there is no waterlogging. Because the orchid does not like wetness. We deliver your orchid already with the appropriate soil.
The right planter should contain a small step or be V-shaped, so that the plant is not directly in the water. You will also receive this planter free of charge with your orchid order.
How to water an orchid? Water your orchid with lukewarm water. It should also not be too calcareous. Special orchid fertilizer provides the plant with important nutrients. Withered stems should be removed directly.
Buy a white orchid
In our assortment you can not only buy white orchids online, but also have purple orchids sent to you or order orchids with a beautiful pattern. We show you here some particularly beautiful plants, which we deliver directly to your desired address:
The classic: White orchid with two panicles
Our splash of color: Purple orchid with two panicles
The flower miracle: Purple orchid in a bow
The highlight: White orchid with glass vase
Send orchids and give joy
Fortunately, orchids are wonderful to send. If you want to give the origin of the Phalaenopsis to friends or acquaintances, you only need to specify the appropriate delivery address. The recipient will not find an invoice in his surprise package. We will send it only to your e-mail address.
You can add a free greeting card to your order or upload a personal video message. Your recipient will then find a QR code in a card which, when photographed, will lead to your message. This option is ideal if you want to send an orchid for a birthday.
The orchid is also a popular gift for opening a store or moving house. If you can't congratulate in person, send an orchid and make someone smile. Because flowers say more than a thousand words and are always an emotional gift.
Any questions?
If you have any questions about your order, the ordering process or the assortment, we are here for you. Simply contact our customer service. We look forward to your message and also your feedback via our social media channels.