Sale!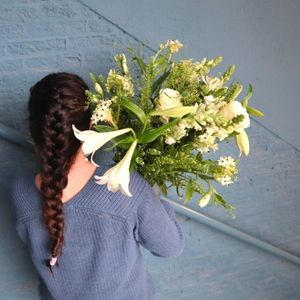 Order white flowers
White flower bouquets are always popular. They look very clean and chic because of their color. Especially in a minimalist interior flowers in white come out well. They are also popular as a gift.
White bouquet with gift
Pimp your order with white flowers and also send a gift. With us you can send your bouquet of flowers chocolate, cuddly toys, cups or even cards to make the recipient happy.
---
What do white bouquets of flowers stand for?
They remind you of the prettiest girl in the class. The color white a symbol of elegance and beauty. White flowers are therefore a sign of trust, respect, respect and affection given away.
The importance of white bouquets does not just fall from the sky. In the past, and especially in the nineteenth century, flowers were already used as ambassadors. Therefore, a white bouquet is still considered a sign of affection.
This method, also called floriography, was mainly used in England of the nineteenth century. This time, the Victorian era, was characterized by modesty, so flirting in public was not possible. People at that time communicated proverbially through the flower.
White bouquet with promise of freshness
To enjoy your bouquet of white flowers as long as possible, the flower arrangement should be placed in lukewarm water immediately after arrival.
The bouquet comes standard with cut flower fertilizer, which you can mix with the water. This will ensure that your bouquet gets the right nutrients and stays in full bloom for as long as possible.
Please do not forget to cut the stems with a sharp knife before you put them in the water. Because we are confident in our quality, we promise 7-day freshness on all flowers. So order your white bouquet with freshness promise!
Our top 3 white bouquets
Not quite sure which white bouquet to send? No problem, we'll help you with your online order and tell you which white blooms make great gifts.
Bouquet Lina
A bouquet in pink and white, this is our freesia bouquet Lina. With pink roses, white chamomile and white freesias, this bouquet will convince you and put you in a good mood. Order now a bouquet and cheerful and bright colors and spread joy!
Bouquet Constanze
How about a bouquet in blue and white? Then our bouquet Constanze is just the right choice for you! With white chrysanthemums, roses and lisianthus, as well as blue delphinium and beach lilac, it's a beautiful and harmonious mix of colors.
Bouquet Marit
A classic bouquet in white and green, this is our bouquet Marit. With white roses and chrysanthemums, as well as greenish carnations and baby's breath, this bouquet symbolizes compassion, respect and appreciation. Order a clean and chic bouquet now!
Have white flowers delivered nationwide
Do you want to have white roses or white lilies sent to a friend, acquaintance or loved one in Germany?
With blumenshop.com you can have the flowers delivered directly to your home or to a company or institution. If you order your white bouquet before 14:30, it can be there the very next day.