Sale!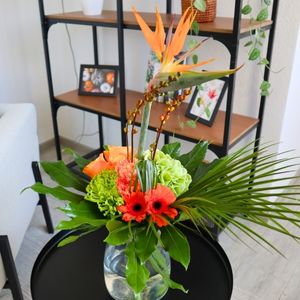 Order hydrangea bouquet
With their countless flowers and colors hydrangeas enchant us every year again. Especially in summer and autumn bouquets, the flowers are often used to create a highlight. Make your loved ones or yourself happy now and order a beautiful bouquet of hydrangeas.
Meaning hydrangea
Hydrangea stands for gratitude, grace and beauty because this flower captivates with a lush head, which consists of many small flowers. Depending on the color, hydrangea can also stand for love and peace.
Hydrangea bouquet with gift
Only a bouquet of flowers is not enough for you? Then send your hydrangea bouquet with a small gift. Here we offer different possibilities:
---
Have hydrangea bouquet delivered
A hydrangea bouquet in a vase is lush and colorful in all sorts of colors. The flower of the summer and autumn flower can grow to a diameter of up to 25 centimeters and consists of many small petals. Furthermore, there are many different types of hydrangea, which are used in beautiful bouquets.
The color change of the hydrangea
Hydrangeas bloom in bright colors such as white, pink, purple, green and blue in the first half of the year. In the second half of the year, they bloom in autumnal colors such as brown, dark red or even multicolored. In what color, this beautiful flower will surprise you is due to the PH value of the soil in which the flower was grown. For this reason, the color of the flowers of your plants may change from year to year.
Order large hydrangeas in bouquets
With us you can order large hydrangeas to beautify your home with a fresh bouquet of flowers. You want to have the hydrangea bouquet delivered or give it as a gift? No problem! We will take care of shipping the flowers on your desired delivery date.
Send hydrangea bouquet all over Germany
You can't deliver your hydrangea bouquet personally? No problem, because we will gladly take care of this for you. We deliver your flower greeting all over Germany. Whether Cologne, Munich, Stuttgart or Leipzig - we help you to send joy all over Germany.
Origin of the hydrangea
Did you already know? The botanical name of the hydrangea is Hydrangea. The autumn flower originates from Asia and also has South American roots.
Today it can be found in many gardens and also makes an excellent door wreath. With us you can order fresh hydrangea in a bouquet tied by florists online.
Buy hydrangea bouquet online
Choose your most beautiful bouquet and we will deliver the summer flower in the most beautiful colors to your home or to the recipient of your choice. Giving hydrangeas as a gift is really fun. When was the last time you gave joy as a gift?
In addition, you can use our free greeting card to write a lovely message or personalize your order with a video message. Let flowers speak for you. Say it with a hydrangea bouquet.
Care tip for your hydrangea bouquet
We'll give you some tips to keep in mind when you receive your bouquet, complete with hydrangeas. We include our freshness card and cut flower fertilizer with every order, but we've bundled all the care tips for you again here:
Cut the stems of the hydrangea and remove any leaves on the stems that are in the water. This will help prevent bacteria from forming in the water.
Hydrangeas require a lot of water. Therefore, you can even put your hydrangea bouquet in a whole water bath for a few minutes, because this way it will absorb liquid wonderfully and bloom lushly again. By the way, the water should be lukewarm and not too cold.
Give a hydrangea bouquet as a gift?
We are here for you if you want to surprise your loved ones with a bouquet of hydrangeas or if you don't have time to visit the florist around the corner. In addition to fresh cut flowers, we have many gift ideas ready for you.
You can order a bouquet of hydrangea flowers and choose high-quality chocolates. Thus, the hydrangeas for a birthday, wedding anniversary or as a get-well bouquet will be insanely well received by the recipient. A bouquet of hydrangeas is sure to delight!