Sale!

Sale!

Sale!

Sale!

Sale!

Sale!

Sale!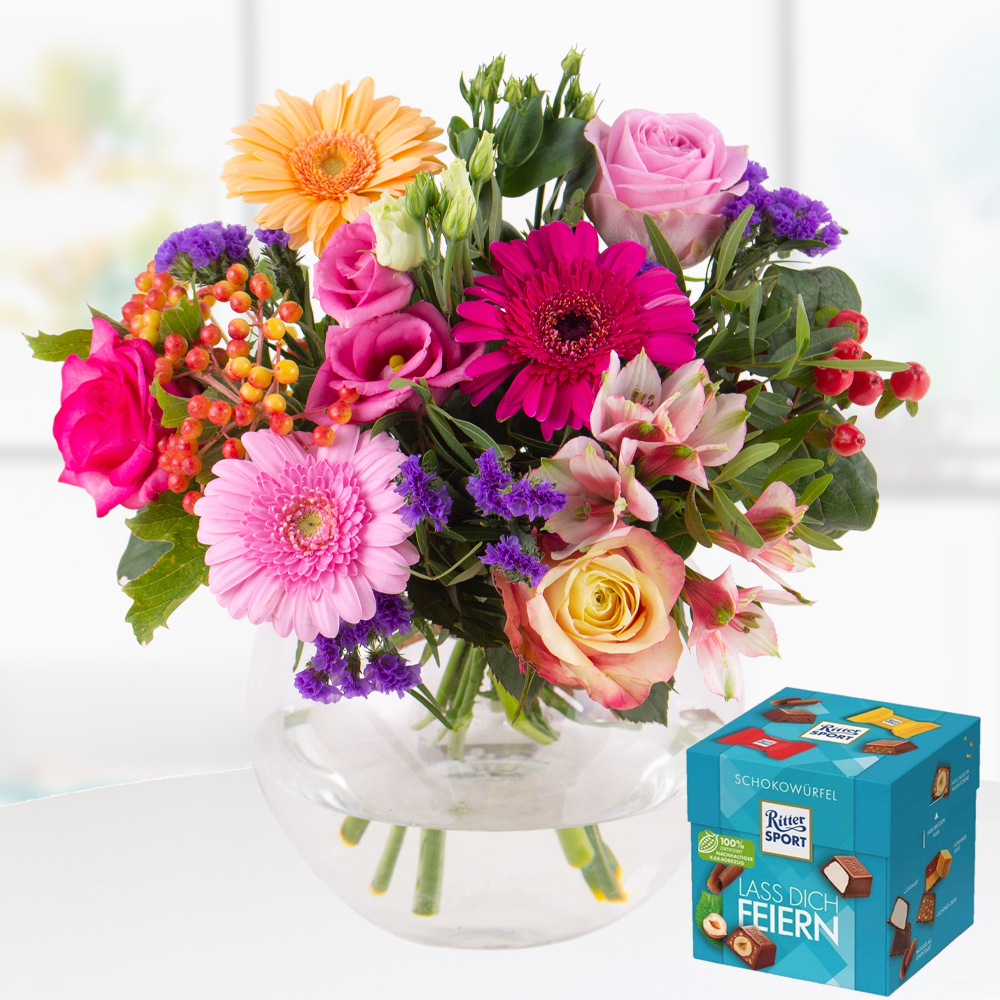 Buy a birthday bouquet
Send flowers for a birthday to give joy from afar. Nothing says happy birthday as vividly as flowers.
Flower greetings are the highlight of birthday gifts and stand out with their color, and fragrance. Whether colorful or simple, you are sure to find beautiful birthday flowers for your favorite person.
Happy birthday flowers
With blumenshop.com you can easily send birthday gifts online from the comfort of your home.
We send your birthday flowers safely, on time and all over Germany. To make your birthday flower greeting more personal we also offer you a free greeting card or video message.
Birthday gifts
Would you like another small gift in addition to the flowers? We have some inspiration for you:
---
Order flowers for a birthday online
It's your birthday and the doorbell rings. The parcel carrier brings you a package from blumenshop.com, containing a beautiful and fresh bouquet of flowers as a birthday gift. Who would not be happy about this? Flowers for birthdays are very popular because they bring a smile to everyone's face, especially as a surprise.
We are happy to help you send gorgeous birthday flowers to your favorite people. Whether you prefer a modern birthday bouquet in cheerful colors or a classic and elegant one, in our assortment you are sure to find the right bouquet for every birthday.
The free greeting card with your desired text or a video message created by you, which the birthday boy or girl receives together with the bouquet you have chosen, round off your flower greeting perfectly. This way, your gift will immediately become much more personal.
See for yourself! Order a birthday bouquet now and send joy. A special day, a special gift - flowers.
Send flowers for a birthday: Your advantages
Make life more beautiful for the recipient and yourself: The Birthday girl or boy will receive a beautiful bouquet of flowers and you can order the gift easily and conveniently from home.
Finding the right birthday gift often turns out to be a difficult task. But it can be so simple: A flower greeting is wonderful and always the right gift. Sending birthday greetings by flower delivery is guaranteed to wish your loved ones an appropriate "Happy Birthday"!
The biggest advantage of us as an online flower delivery service: With blumenshop.com you can plan in advance all birthday bouquet orders. So you can never forget a birthday again!
In order to keep our 7-days-freshness-promise, your flowers will be tied only one day before the desired delivery date and shipped on time. So the birthday boy or girl can enjoy your fresh birthday flowers the very next day.
Send birthday flowers with a gift
Colorful bouquets of flowers make the birthday a special day. If you give birthday flowers to your loved ones, you are guaranteed a big surprise. In addition, you have with our online flower delivery of course the option to put one on top.
We have not only flowers and plants in our assortment, but also small gifts. Upgrade your birthday flowers with chocolate, a high-quality card, a vase, a cup or a cuddly toy.
What flowers to give for a birthday?
A birthday is a happy occasion and that is what the flowers should reflect. Therefore, we recommend to order colorful flowers, really everyone will be happy about it. Apart from this tip, seasonal flowers are especially suitable as a birthday gift.
You still need a little inspiration for your birthday gift? We have a few tips for you:
Birthday flowers for your partner: The classic for lovers is and remains of course the rose. Whether as a mono or mixed bouquet, roses express true affection.
Floral birthday gifts for parents: You want to give your parents a special surprise for their birthday? Then send flowers with us, they will surely be happy about it! For parents are particularly suitable colorful bouquets with a variety of flower types.
Flowers for grandparents on their birthday: Your grandparents will be delighted with one of our classic bouquets. Biedermeier bouquets look very classy and are absolutely timeless.
Birthday flowers for best friends: No one knows you better than your best friend. That's why you surely know exactly what kind of flowers he or she likes the most. Our idea would be flowers their favorite color. Would you like to add some chocolate or a mug with a nice message?
Birthday gifts for work colleagues: We spend the most time with our colleagues at work. It is natural that we would like to give them a small gift for their birthday. For this purpose, we have suitable affordable bouquets, which nevertheless really look great. The best choice is a colorful and modern bouquet.
If you are still undecided, you can also choose the style of flowers according to the age of the recipient.
What flowers for the 18th birthday?
For the 18th birthday, the blumenshop.com florists recommend something small with lots of color. Colorful bouquets are very suitable to emphasize the happy occasion. For younger people, chocolate is also very popular.
What flowers for 40th birthday?
For the 40th birthday blumenshop.com recommends something colorful. The size of the gift should correspond to the relationship status. On fleeting aquaintances a small bouquet already works true miracles. With good friends it may be then something larger and the own partner is overwhelmed with a XXL bouquet.
Which flowers for the 70th birthday?
From 70 years and upwards, classic bouquets are increasingly sent. Here, the most popular flower gift is our premium roses in red or white. Also Biedermeier bouquets in colorful are welcome guests on a birthday at an older age.
---
What flowers are best to give for a birthday?
When choosing birthday flowers you should take into account the preferences of the person. Generally popular flowers for the birthday are:
Roses: Symbolize love and appreciation.
Lilies: Represent renewal and happiness.
Gerbera: They are colorful and represent joy.
Tulips: Represent perfection and springtime feelings.
Why are flowers a popular birthday gift?
Flowers are a universal sign of affection and appreciation. They are a natural product that symbolizes life and freshness. Giving birthday flowers can brighten up the person's day, leave a lasting impression and deliver genuine emotions. That is why birthday flowers are always a perfect gift, whether for acquaintances, friends or family!
How to order flowers for a birthday online?
Ordering flowers for a birthday online is quite simple and convenient. Choose your favorite bouquet, put it in the shopping cart and complete the order. You can do this from the comfort of your own home.
What flowers to give a woman for her birthday?
Women often enjoy flowers with delicate colors and fragrances. Some of the favorite birthday flowers for women are:
Roses in pastel shades: Pink or cream colors symbolize admiration and affection.
Orchids: Embody elegance and exclusivity.
Carnations: In different colors, they embody different meanings, from love to recognition.
Sunflowers: A symbol of admiration and positivity.
Freesias: With their sweet fragrance, they embody innocence and friendship.
However, when giving a gift, it is always good to take into account the individual preferences of the woman as well.
Can you give flowers for a birthday?
Yes, flowers are a classic and always appreciated birthday gift. They bring color and joy to the special day and express appreciation and affection. Whether for acquaintances, friends or family, really everyone is happy about a beautiful birthday bouquet!