Order pink tulips online
Tulips, one of Germany's favorite flowers. We can understand why, because we love them like everyone else.
As soon as the tulip season starts, we know that the dull days will soon be uphill and the better weather will come again. And what can sweeten our day better than pink tulips? Right, namely nothing at all.
With their delicate color, pink tulips bring a splash of color to our table decorations, kicking the reds of Christmas out of the house. After all, did you know that tulip season starts at the turn of the year? Therefore, tulips are among the early bloomers of the cold season.
Therefore, from the end of December or the beginning of January you can find the flower beauties in our assortment.
Meaning of pink tulips
Pink tulips are not only beautiful to look at, no, they also have a wonderful meaning. Thus, the symbolism of pink tulips is "freshness and love just kindled". Therefore, pink tulips are especially suitable for people who are fresh in a relationship and want to express their infatuation to their partners.
But not only that, pink tulips can also be a sign of love beginning. So when the question "Will you go with me?" comes up, tulips in pink make a great way to express your budding feelings. And we're sure that your heart's man will come up with a "YES!" all the more quickly because of it.
We are therefore not surprised that the meaning of pink tulips can be equated with spring feelings. Because just as spring stands for new beginnings and germinating flowers, tulips represent this in love.
Tulips in pink as early bloomers
Tulips are among the early bloomers that slowly show their flowers in the first months of the year, making them one of the first messengers of spring. Spring heralds are flowers that slowly show their blooms in the cold months at the beginning of the year, but have already disappeared for the real spring.
Our tulips belong exactly to this category. As soon as the sun makes it through the dark period, our tulip buds look forward to slowly putting out their feelers and then blossoming in no time, so that they can then be made into beautiful bouquets.
Cutting tulips - how to do it right?
We convinced you to order pink tulips? Now you're wondering how best to cut your new flower treasures? It's simple!
Use a clean sharp knife for this. With scissors you would squeeze the stem, so that a good water supply can not be guaranteed.
When you apply the knife, make sure that you hold it at a slight angle to straight and you can give your tulips a new cut and thus ensure a good supply of liquid.
Send pink tulips all over Germany
Your loved ones live too far away or it is not possible for you to visit them personally for other reasons? Then we are happy to help out here! With our online flower store you can send your pink tulip bouquet all over Germany.
Whether it's Munich, Hamburg, Berlin or smaller cities within Germany, we'll make a flower delivery to your desired day mg with our shipping partner.
Our top 3 bouquets with tulips in pink
Of course, we offer you a wonderful selection of pink tulips, but we would still like to introduce you to our favorite tulip bouquets.
Flower Bouquet Frühlingstraum
Chosen as the bouquet of the month for March, our flower bouquet Frühlingstraum is all about the name. With beautiful pink tulips, pink and pink gerberas and pink roses, this bouquet brings a breath of fresh air to your table decoration.
It is a dream of pink and is especially good to give to your mom, grandma, best or steady friend. We are sure that this bouquet will make your eyes shine.
But not only that, it is also particularly suitable as a gift for the birth of a girl, as it is a real girl's dream.
Bulb Bouquet Pink - tulip bouquet with bulbs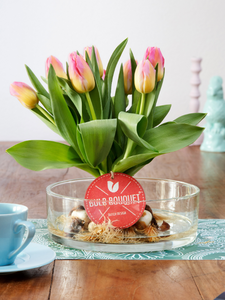 You want something very special? Then our Bulb Bouquet in pink is just the right choice for you. Because this fascinating tulip bouquet comes with its bulbs. For this reason, it is more durable than normal cut flowers.
Not only do the bulbs ensure longevity, but they also make for big eyes, because when do you ever see tulips with bulbs as table decorations? Rarely! All the more reason to get this special bouquet in your home or give it to your friend as a gift.
30 Pink tulips
A sea of pink flower heads, this is our 30 Pink Tulips bouquet. This tulip bouquet perfectly reflects the springtime feelings that are in the air during tulip season.
Due to the meaning of tulips in pink - tender and just awakened love, this bouquet is perfect to give in fresh relationships, emphasizing the just budding feelings. Also, this bouquet is suitable to win your sweetheart or your beloved for you, so as to start a new relationship.