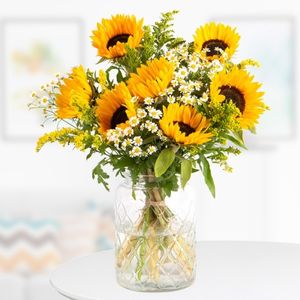 Order sunflowers
Everyone knows and loves them. Sunflowers are one of the most popular flowers among Germans and are a real eye-catcher due to their sunny color and striking appearance. A bouquet of sunflowers is therefore popular as a gift or decorative element and provides joy.
Meaning sunflower bouquet
A bouquet of sunflowers not only shines with its bright yellow petals, no, it also has a very special meaning. Helianthus shines like the sun and symbolizes warmth, hope, joy of life and confidence.
Sunflower bouquet with gift
Enhance your cheerful gift with little things. Therefore send additionally:
---
Send sunflowers
They shine with the sun in the sky and herald the summer season. We are talking about our beautiful sunflower bouquets, which would like to sweeten the life of you and your loved ones. Whether as mono bouquets in different sizes or in combination with chamomile, gerbera, carnations or chrysanthemums - our sunflowers always make a statement.
With its yellow blossoms, Helianthus brings joy and makes a perfect gift to friends, colleagues, or family members. What are you waiting for? Order a sunflower bouquet now and make your eyes sparkle.
It's so easy to order your sunflower bouquet:
Buy sunflowers now and make a loved one happy. We tell you how easy it is to order a bouquet of sunflowers:
Choose a sunflower bouquet that you or the recipient likes and add it to the shopping cart.
In the shopping cart you can choose a free greeting card or a video message.
From the shopping cart you will get to the checkout area. Here you can enter all the important information about your order, such as delivery address, delivery date or whether your flowers should be sent anonymously.
Now you just have to click on "order with costs" and you have ordered a summery sunflower bouquet in no time.
When do sunflowers bloom?
The popular flower blooms from June to October. Depending on the variety, the sunflower can have yellow, orange or red petals. Especially on field edges, the summer flower can be found within Germany.
We deliver all our sunflower bouquets throughout Germany. Whether Cologne, Munich, Berlin or Hamburg - with us you can please people all over Germany. We can also deliver your bouquet to the Netherlands or Belgium.
And the best part? Order your sunflower bouquet today so that it can be delivered tomorrow.
Sunflower bouquet care
With its double flowers, the sunflower is at the top of the list of the Germans' favorite flowers. However, to make sure you can enjoy the radiant blooms of this cut flower for longer, we'll tell you a few care tips for your sunflower bouquet:
Cut your sunflower bouquet with a sharp knife. Scissors can cause the water lines to get pinched.
Avoid a sunny location. Your sunflower bouquet may like a bright location, but blazing sun will cause your yellow beauties to fade faster.
Sunflowers need regular water changes to keep your bouquet blooming for as long as possible.
Use a fresh vase and clean it with every water change. This will prevent bacteria from spreading as quickly, which can cause your bouquet to fade faster.
5 facts about sunflowers
Sunflowers are native to North America and were grown and cultivated by Native Americans. They were brought to Europe in the 16th century and have since spread around the world.
Sunflowers belong to the composite family Asteraceae and are closely related to daisies and asters.
The sunflower is named after the sun because it follows the sun all day and always turns toward the sun. This is called heliotropism.
Sunflowers can shoot up to 3 feet in height and have large yellow flower heads made up of many small flowers.
The seeds of the sunflower are often eaten as a snack and are rich in protein, fiber, vitamins and minerals.