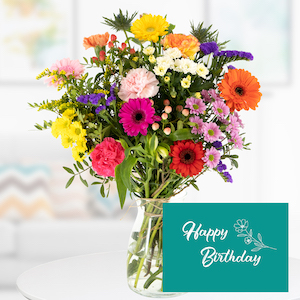 Colorful flower bouquet with a gift
Individual flower gift
If you can't find what you're looking for in our combination products, you can easily create your own combination of flowers and a small gift.

Simply add the bouquet of your choice and a gift to the shopping cart and complete the order. We will lovingly wrap both together.

To select gifts you can choose from:
---
Order flowers and gift online with blumenshop.com
With our flower delivery service it is very easy to send fresh and colorful flowers and a suitable gift. With us you will find the most beautiful fresh flowers, which are tied by hand as shown in the pictures and are sent safely. So you know in advance for sure how the bouquet you want to send will look like.
With our help, you can send your loved ones a high-quality bouquet for any occasion. For a birthday, wedding anniversary, Mother's Day or as a convalescence greeting. Due to a short supply chain, you can give the best flowers at the best price through us, because we get our flowers directly from the grower.
Depending on the season, we can offer you brand new flower varieties. In summer, peonies, sunflowers, colorful gerberas and colorful roses are very popular.
Of course, in addition to classically tied bouquets, we also keep lightly tied field flower bouquets in our assortment. How about surprising your intended recipient or yourself with our surprise bouquet in a high-quality shipping box? No matter what you decide: Give joy with our fresh cut flowers and a nice gift like chocolates.
Suitable presents for everyone
So with us you will find not only romantic gifts or gifts for birthdays, but also -thanks to video greeting- personalized gifts that will make your eyes shine.
Perfect gifts for your favorite people
May it be a little more? If you want to enhance your fresh flowers with a suitable gift, you will find many small great gift ideas in our gifts section. A free greeting card can be filled out for each order or a personal video greeting can be recorded and uploaded.
Who wants to order a gift online is in good hands with us. Giving flowers works like this:
Choose a beautiful bouquet of flowers and select a matching gift. We have a wide selection of gifts for every occasion.
Select your preferred delivery date and enter the delivery address of the recipient.
Do not forget your billing address. The invoice will be sent to you by e-mail only.
Choose your most convenient payment method and your gift will be on its way.
Have flower gifts delivered
Send and deliver flowers makes our shipping partner DHL possible. The hand-tied cut flowers are sent in a secure shipping package. We keep the flowers moist with a fresh pack of water and also include our care tips in the package. After your bouquet has been tied by our florists, it is already on its way.
You can send our bouquet all over Germany. DHL delivers to Hamburg, Berlin, Cologne, Frankfurt or Munich and far beyond. So the flowers will be sent in less than 24 hours.
As soon as your package is on its way, you will receive a shipping confirmation from DHL in which you can track the package. Exciting, isn't it?
Send flowers and matching gifts
Once you have chosen a bouquet, you can add and fill out a free greeting card. If you prefer something more personal and emotional, you can record a video greeting and upload it easily. The recipient will then find a QR code in their package that leads to your video. An original gift, isn't it?
In addition, we send a vase to the fresh flowers, or a small gift - such as chocolates, a cup or a soft toy. We send each bouquet with your gift as a high quality set.
Send the perfect flower greeting for a birthday, wedding anniversary or for love! Whether family, friends, or work colleagues, gifts for women or gifts for men - with Buns you can easily send the right bouquet with a gift. You can buy fresh flower bouquets together with chocolates, chocolates and soft toys and if you wish you can order the recipient a glass vase to match the flower greeting.
By the way, the flower store shipping box is specially designed so that gifts and flowers are safe to send. Turn your flower greeting into a high quality gift.
Gift giving has never been easier
In our category gifts you can already find a selection of beautiful and matching bundles. These are gift sets that our team has put together. In addition to a bouquet of flowers, the set contains chocolates with a get-well wish. This set is perfect as a pep talk in case of illness.
A great gift for the birth of a child is a bouquet of flowers with a cute stuffed animal. A really great and unobtrusive gift idea for new parents. There are no limits when it comes to a birthday gift: Colorful cheerful flowers and a Happy Birthday greeting or are just the thing here.
And even if it's mom's birthday or Mother's Day, you'll find great mugs, plush toys, keychains or colorful cards that your mom will be happy about.
Our unique gift ideas
What all do you need to surprise your favorite person? Exactly:
A beautiful bouquet of flowers
A matching flower vase
A box of chocolates
A greeting card with a dear message or your personal video message
You can find all this with just a few clicks in our online store. We are your contact when it comes to ordering flowers, plants and gifts online. Currently you can find in our store gifts such as Lindt mini pralines, Milka pralines, Merci, chocolate cubes for birthdays, and much more.
Free greeting card or video message makes eyes light up
If you have chosen a bouquet of flowers or a trendy houseplant, you can leave a lovely message for the recipient. Simply use our free high-quality greeting card. Each greeting card is enclosed in an additional envelope and increases the surprise effect enormously. You can enter the message directly on the product page in the text field "Personal greeting text" or write it during the last order step at the checkout.
For those who prefer to speak into the camera and have something more to say, it is best to record a personal video message. The recipient will find a QR code in his delivery that leads to the recorded video.