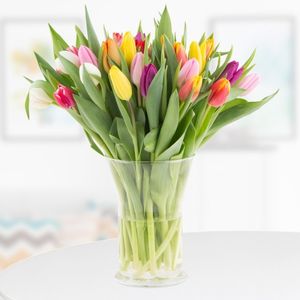 Send a bouquet of tulips
Tulips are probably the most popular flowers after roses.
As a spring flower, this radiates joy and happiness and energy. Tulips bloom in the most cheerful colors like red, yellow, orange or pink. But also white tulips tied together with hip eucalyptus are a great eye-catcher in any vase.
Order tulips online
Delivery: From December - April
Colors: White, red, pink, purple, yellow, orange, variegated.
Location: Sunny location
In order to provide the best quality possible, we source our tulips from the Netherlands.
---
We love them: tulips from Holland
The tulip season officially opens in Amsterdam in mid-January. With us you get the colorful tulip bouquets already at the end of December and we provide you with the popular spring messengers until Easter time. They put us in the mood for the warm season.
With blumenshop.de you can order tulips online and have them delivered as a flower greeting to a loved one.
Tulips belong to the lily family. Furthermore, there are many different species of tulips, so they can have different colors and shapes.
Bouquet of tulips in all colors
Tulips are probably the most popular flowers after roses. As a spring flower, this radiates joy and happiness and energy. They bloom in the most cheerful colors such as red, yellow, orange or pink. But also white tulips tied together with hip eucalyptus are a great eye-catcher in any vase.
To offer the best possible quality, we ship our tulips to the Netherlands.
Do you know the Bulb Bouquet? Order tulips with bulbs
The tulip bouquet with bulbs (Bulb Bouquet) are something very special. We can place them in the house and also outside on the garden table. For this purpose, it is best to use a shallow bowl or plate with a little water.
Outside, the early bloomers should be protected from the wind, and in case of rain, they should be placed under it for safety. Tulips with bulbs are stable. They stay fresh indoors for 10 to 14 days and outdoors for as long as three to four weeks.
Where can I buy tulips?
At blumenshop.de! Our flowers are lovingly hand-tied and carefully packed on the day of pick-up. They then go on their journey with a fresh pack of water. The fresh pack contains a water supply for two to three days. Thus, your flowers will arrive well taken care of at you or your intended recipient.
We deliver our flowers to any part of Germany with our shipping partner DHL. You have the choice between express delivery or standard delivery. Island deliveries are no problem, in this case a delivery day buffer should possibly be considered.
Tulip bouquets - a gift idea for every occasion
Tulip bouquets can be ordered in the favorite color of your choice and are perfect for sending. This is a great way to give special people, birthday boys and girls, and family members we haven't seen in a while.
You can also order a romantic tulip bouquet for Valentine's Day. The tulips are carefully picked and tied by hand.
Have fresh tulips delivered:
The tulips keep fresh for a long time
The tulip bouquet is robust and can therefore be shipped perfectly
Colorful tulip bouquets simply make a good mood
Tulips are one of the favorite flowers of the Germans
Order tulips: This is how it works
Choose your favorite bouquet and put it in your shopping cart.
If your bouquet is a gift, you now enter a text for the free greeting card. The card will be included in your flower delivery. Alternatively, you can record a video message to personalize your order.
Choose the correct delivery address and enter your billing address. By the way, we do not include an invoice in the package. You will receive the invoice by e-mail only.
Select the desired delivery date on which your package should be delivered and decide on your preferred payment method.
Now you can complete the ordering process and look forward to beautiful fresh tulips.
Buy tulip bulbs
Looking for a suitable gift? Then we have something very special for you! Our tulip bulbs to grow yourself, which are packed in a trendy wine bag. Due to their packaging, they will make for big eyes on the recipient.
And the best part? Once they are planted you can watch them bloom in your garden.
When should you plant your tulip bulbs?
To get your tulips blooming appropriately in the spring, you should plant your bulbs as early as September through December. After that, your early bloomers will shine in a variety of colors and shapes.
Another gift for your tulips?
If you want to give the flowers as a gift, make your loved ones happy and personalize the flower greeting with a gift. We allow you to add a greeting card or vase with just one click.
In addition, you can also include a delicacy, such as chocolates. Add the finishing touch to your floral greeting!
A bouquet of tulips is the ideal gift for joyful events in spring. Our tulips spread joy and are a wonderful birthday gift or even a dear greeting to good friends.
They are messengers of spring and therefore very popular, because who does not long for the first warm rays of sunshine after a long winter? Arranged in a tall vase, they look the most beautiful.