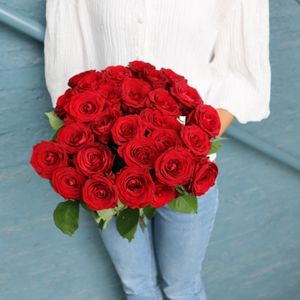 Valentine's Day flowers
In many parts of the world we celebrate Valentine's Day on 14.02.2023: the day of love. A day when you can surprise your loved ones with small gifts.
The most popular gift is without a doubt a beautiful Valentine's Day bouquet.
Roses for Valentine's Day
You want to give the queen of flowers? Very good, because roses belong to Valentine's Day, like the name on the door. They are the most popular gift for the day of love.
Long stemmed red roses will enchant every flower lover with their light fragrance.
Valentine's Day gift ideas
In addition to flowers, Valentine's Day gifts include sweets such as chocolates with a small greeting message.
---
Give flowers for Valentine's Day - the classic gift
Our flower delivery service will make your eyes sparkle by sending Valentine's Day flowers for you to your sweetheart.
Our florists put together creative bouquets with the flowers you want with a lot of love and care. These are then delivered to the recipient in the shortest possible time by our shipping partner. Thus, all our Valentine's Day flowers are delivered fresh from the grower and convince with our 7-day freshness promise.
With a free greeting card or video message and a small gift like chocolate, the floral surprise can be personalized and rounded off.
Valentine's Day flowers - A poignant tradition
Where does the custom of giving flowers for Valentine's Day come from?
The history surrounding this day dates back to the third century AD and ends, albeit romantically, very tragically. The Roman Emperor Claudius II issued a ban by saying that people from different estates were not allowed to marry.
The bishop Valentine of Terni defied this prohibition and secretly married lovers. The bishop gave each bride and groom a flower from his garden.
When the bishop's secret marriages were discovered, the emperor showed no mercy and had St. Valentine of Terni executed on February 14, 269. Today, by the way, the eponym of Valentine's Day is a saint of the Roman Catholic Church.
For this reason, Valentine's Day is celebrated. To this day, we follow Valentine's example by sending flowers as gifts to our loved ones on this day.
Our service will help you to send the right Valentine's Day flowers to your loved one.
What flowers to give for Valentine's Day?
Red roses, lilies, Peruvian lilies, carnations, gerberas of all colors or a colorful bouquet consisting of field flowers are great gift ideas for her or him.
Who wouldn't love a fresh surprise bouquet on Valentine's Day?
Generally speaking, there are no limits to your bouquet. Give away what your partner likes. Red, pink, yellow or orange, small or large, your Valentine's Day bouquet can be whatever you want it to be. Send a matching flowers now to express your feelings.
Have Valentine's Day flowers delivered with a personal message
If you have decided to send flowers or roses, you can add a loving greeting message to this Valentine's Day bouquet. Simply fill out our free greeting card or send a free video message and let Valentine's Day flowers speak for you.
Send flowers for Valentine's Day
For Valentine's Day it does not always have to be roses. In principle, everything is allowed. If you want to give a good friend or family member a special treat, you can buy colorful gerberas or beautiful lilies instead of sending a bouquet of roses.
We are your contact - no matter what kind of flowers you want to send, here you will be able to order the right kind of flowers. By the way, a delicious chocolate or a card is also a nice gift idea for Valentine's Day flower greetings.
Sending flowers on Valentine's Day can be so easy. Choose your Valentine's Day flowers now and have them sent on time to reach your loved ones on Valentine's Day.
Valentine's Day gifts
Add value to your floral greeting by sending a gift mug, a matching vase or a cuddly toy. Chocolate is also always very popular for Valentine's Day. With our online flower delivery service, you can combine the most popular Valentine's Day gift ideas. Let flowers and gifts speak for themselves.
Order flowers online has never been easier! Choose the right bouquet for your sweetheart or loved one, add it to the shopping cart and complete the order.
Flower store flower delivery is guaranteed to deliver your Valentine's Day gifts on time on February 14 with express shipping.
Give roses for Valentine's Day
The lush and deep red blooms of Valentine's Day roses are a true highlight for the recipient.
What do roses for Valentine's Day mean? The symbolism of the rose speaks for itself: its heart-shaped leaves stand for love and trust. The color red also stands for love and respect. Thus, a bouquet of roses for Valentine's Day is exactly the right choice for your life partner.
We will take care of sending your roses on time for Valentine's Day. Your bouquet of roses will be tied by hand and shipped on time.
Sending a bouquet of roses is so easy with us. Sit back and relax, we'll take care of the rest.
Got Valentine's Day roses as a gift and want to know how to keep them fresh for as long as possible? Here are a few tips:
Cut the stems of your roses at an angle
Put them in cold fresh water and a clean vase
Add the cut flower fertilizer
This way you will enjoy your roses for Valentine's Day for a long time
Send flowers for Valentine's Day all over Germany
By the way, we send your Valentine's Day gift to all of Germany: whether Berlin, Hamburg, Cologne, Frankfurt or Munich, whoever orders at blumenshop.de can be sure to give away love on time on February 14 with express shipping. Have flowers or roses delivered for Valentine's Day now!