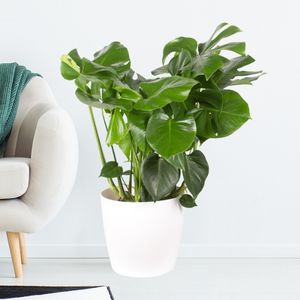 Send houseplants
A home or office without houseplants? Hardly imaginable!
Green magnificent houseplants conceal white spots, replace dusty decorations and provide a pleasant indoor climate.
Buy houseplants online now with just a few clicks.
Reasons for indoor plants
Plants reduce your stress level (yes, science confirms it).
Plants create a more comfortable indoor environment.
Plants increase your creativity.
Plants are always great as a gift for just about any occasion.
The different indoor plants
---
Order houseplants online
Fun Fact: Houseplants increase our creativity. Proven. So here goes. Look around at our houseplant mail order.
What houseplants are in vogue? Palm trees, monstera and trendy plants like the pineapple plant are absolute trend plants and cool eye-catchers and beautify any room. Especially any office or home office. After all, it's easier to work with a look at our green favorites.
It is so easy to order houseplants: We offer you a select assortment of evergreen and low-maintenance houseplants. Beautify your home with palms, ferns and XXL plants.
Our offer includes both low-maintenance, insensitive and generally undemanding plants such as the bow hemp. Of course, we also carry more high-maintenance houseplants such as flowering orchids.
We offer a wide selection of houseplants for every occasion: houseplants for gifts or for your own four walls. Send plants now!
Which houseplants need little light?
Shade and houseplants - a good combination? Normally plants need light and sun to grow, yet there are a few houseplants for dark corners.
Among the houseplants for shade include, for example, the monocot, which copes wonderfully with darker places. Also the nest fern, dragon tree or lucky feather need little light to still look good.
The fast delivery of houseplants
If you order by 3 pm, your plant order can be delivered tomorrow. You can also send your plant to a good friend. Just enter your desired recipient and the joy will be great. Promised.
We deliver all over Germany: from Hamburg, via Berlin to Cologne and all the way to Munich. If desired already on the next day.
The selection of blumenshop.com includes, by the way, Alsokasien with large leaves, dragon tree plants, flamingo flowers, or even rarities such as a pineapple plant. The offer changes, depending on the seasonal availability of indoor plants.
Our orchids
Did you know that the most popular houseplant in the world is the orchid? Our orchid already has magnificent flowers. With a good care and a suitable location, it will bring you a lot of joy and countless petals.
Especially white and purple orchids are popular and always a classic gift for moving in or opening a business. If you can not congratulate in person, the recipient will certainly be pleased with an orchid as a small gift.
Buy houseplants - Use your advantages
With us you will find the most beautiful houseplants for your home. We have robust and uncomplicated houseplants ready. No green thumb is necessary for our houseplants. It is quite uncomplicated:
Choose your favorite plant from our assortment and put it in the shopping cart.
Now choose your delivery address or that of the recipient.
Enter your desired delivery date and fill out the free greeting card or record a video message.
You can choose from a variety of payment methods. Your new houseplant will be safely packed and on its way. It's so easy to order plants online. We take care of the rest.
Create your Urban Jungle - have modern houseplants delivered to you
Houseplants are a strong trend. It is impossible to imagine our living rooms without them.
Many different plants look like a very special urban jungle in your home and create a great atmosphere. All our houseplants come with matching and modern planters. So you don't have to worry about anything.
Our assortment includes many easy-care plants that will enhance your living environment enormously. Take your time and look around our plant assortment.
Water plants are an exciting living trend here that is guaranteed to get people talking. Thanks to flushed and grafted roots, houseplants, like the flamingo flower, manage without any soil at all. They are shipped in a beautiful glass vase. In partial shade and with plenty of water, aquatic plants do especially well.
With us, you can buy your aquatic plants online and at any time of day. Please note with the water plants that they get fresh water every two days, so that no bacteria settle.
Ordering houseplants online is very fast and with our help it is also very uncomplicated. Whether to your home, to the office or to a good friend. There are many reasons for beautiful houseplants.
Send plants with a gift
If it may be a little more, we have great gift ideas for sending the houseplant. How about chocolate or a gift mug? The recipient will make eyes. We guarantee it.
Also, use our free greeting card or record a funny video message to personalize your surprise package.