Sale!

Sale!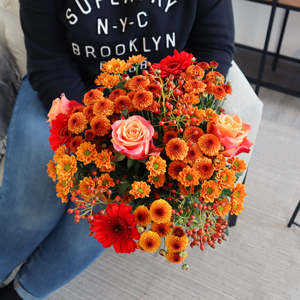 Autumn flowers
The days are getting shorter and the temperatures are dropping. Summer is coming to an end, but with beautiful flowers we can bring color into the darker season.
When the weather is gloomy, colorful flowers bring good mood into any home.
Order colorful autumn flowers now!
Flowers for an autumn bouquet
Popular autumn flowers are especially:
---
Send bouquets of flowers suitable for autumn
Autumn is here and colors the landscape in beautiful red, orange, yellow and brown. Our team has prepared a collection of selected bouquets, so that you too can make your home autumnal. Blumenshop.com offers you a wide range of flowers for every occasion. Here you will find bouquets that shine in the colors of autumn.
Ordering autumn bouquets online can be so easy. The bright colors of our bouquets will perfectly set the mood for September, October and November. But what are the cut flowers in autumn? Typical autumn flowers are hydrangeas, sunflowers, chrysanthemums, alkalis and gerberas.
Ordering autumn flowers online - step by step
Our cut flowers are fresh and hand-tied into the most beautiful bouquets. Ordering flowers online is easy. This is how it works:
Choose your most beautiful autumn bouquet and put it in the shopping cart.
Enter the delivery address and billing address and select the desired delivery date.
Write a message for the free greeting card and select a payment method.
Now you can sit back and relax, because your flower order goes (almost) all by itself on the journey.
Flower delivery with blumenshop.com
If you order your bouquet of flowers online in autumn, you will be thrilled. Because there is no easier and more comfortable way to get fresh flowers delivered.
After ordering the colorful autumn flowers, our florists will take care of tying the bouquet. Then the fresh bouquet is handed over to our shipping partners. By the way, our autumn bouquets are delivered with fresh packs to ensure water supply. This way, your flowery order is guaranteed to arrive fresh to the recipient.
Bring autumn home: Have fun with our fresh autumn bouquets.
Order an autumn bouquet - Give joy as a gift
The golden autumn brings shorter days and we try to catch the last warm rays of the sun. Inwardly we are preparing for winter. Especially on the shorter days we can enjoy colorful flowers.
Even though autumn is the beginning of the colder seasons, some flowers bloom from September to November. Asters, chrysanthemums, cyclamen, heather, dahlias and lantern flowers beautify our autumn.
Neurological studies prove that a colorful bouquet of flowers can significantly improve mood. What do you think? Who would be happy with an autumnal bouquet of flowers? For a birthday, wedding anniversary or just because! Ordering autumn flowers online is fun and easy. Matching autumn: Flowers in yellow, orange and red are very popular.
Order and send autumn flowers
Beautiful sunflowers are great for giving as gifts in late summer and fall. These radiant beauties provide positive thoughts and are the ideal gift for any occasion. Our autumnal bouquets consisting of asters, calendulas or hydrangeas are easy to send because they are relatively hardy. Thus, the fresh autumn bouquet will arrive beautifully to the recipient.
Give the flowers fresh water directly and let them develop for one or two hours. You can also find all the tips on our freshness card, which we include in every package.
Another gift to go with your fall flowers?
Not only do we have beautiful fall flowers, but we also have houseplants and gifts. What do you think about high-quality chocolates or a mug to go with your flowers? No problem, at blumenshop.com you can find gift sets or you can combine your most beautiful autumn flowers to a small gift yourself.
Don't forget to fill out your free greeting card. There you can leave a lovely message for the recipient, which he will find in the package. If you have any questions about your flower order, our customer service is here for you. We will be happy to receive your feedback.
---
Frequently asked questions about autumn flowers:
What flowers bloom in autumn?
There are a number of flowers that bloom in the autumn:
Chrysanthemums: September to November
Hydrangeas: June to October
Dahlias: July to October
Autumn asters: September to October
Lantern flowers: July to September
Cyclamen: August to October
How can I keep an autumn bouquet fresh longer?
To enjoy your fall bouquet for a long time, it's best to cut the stems at an angle and place the flowers in fresh water along with the flower food. Make sure that the water is changed regularly and that your autumn bouquet is not placed in direct sunlight. A cool place is ideal to prolong the life of the bouquet.
What flowers are suitable for an autumn bouquet?
Among the most popular flowers for an autumn bouquet are
Sunflowers
Dahlias
Hydrangeas
Chrysanthemums
Inca lilies
Gerbera
Gladioli
Roses
Where can I buy autumn bouquets?
We show how you can buy an autumn bouquet from the comfort of your home. With blumenshop.com you can easily order your autumn bouquet directly to your home. To do this, select your favorite autumnal bouquet and put it in the shopping cart. Now all you have to do is complete the order and sit back and relax. We'll take care of the rest, so you can decorate your home with the most beautiful flowers this autumn!