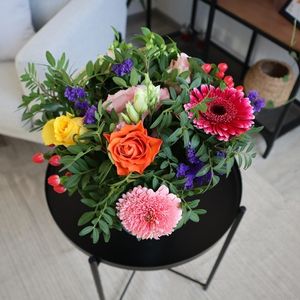 Flowers for Mother's Day
Flowers bring good mood and joy. Bring color into gloomy days and show our loved ones, especially our mother, how much we love her. For this reason, bouquets are just the right gift for Mother's Day.
The history of Mother's Day
Mother's Day is celebrated every second Sunday in May and has been since the beginning of the last century. In its current form, Mother's Day originated from a US-American women's movement.
Floral greetings for Mother's Day
With our feature you can a greeting card free of charge to put some notes in there. We also offer a video message to send a more personal flower greeting for Mother's Day.
---
Send flowers for Mother's Day
She is always there for us, whether with good advice, as a grief box or as a problem solver - our mother. For this very reason, Mother's Day is a wonderful opportunity to show the most important woman in our lives how much we love and appreciate her.
And what are moms especially happy about? That's right. Colorful flowers, which were tied into a wonderful bouquet. Flowers have always been a symbol of love, affection and appreciation and are therefore the perfect gift for this special day. Therefore, let send Mother's Day flowers.
The origin of our Mother's Day gifts - Send a bouquet of flowers for Mother's Day
Mother's Day was established in 1907 as the Memorial Mothers Day Meeting in Grafton by Ann Maria Reeves Jarvis, daughter of Methodist Anna Marie Jarvis. This day was in memory of her mother and was held on the Sunday following the second anniversary of her mother's death.
Rapidly, this meeting turned into a tradition of the women's movement, which led to the official designation of Mother's Day as a holiday in honor of mothers in the United States in 1914.
Quickly, this day was also celebrated in European countries, so that already since 1922 people embellish this day of honor to his mother with flowers. As you can see, flowers and Mother's Day have a long tradition. Even today, bright flowers for Mother's Day are the most sought-after gift. However, on this day you can give a gift not only to your own mother but also to your aunt, grandma or bonus mom - all important women in your life.
So what are you waiting for? Order flowers now for Mother's Day on the second Sunday in May.
Send Mother's Day greetings via plants
Your mom loves houseplants and has a real green thumb? Great! Because houseplants feel especially at home with our mothers. Theoretically, all plants fit as a small gift on Mother's Day. From flowering plants like orchids or a flamingo flower to a monstera or a pineapple plant.
The most beautiful Mother's Day bouquets from blumenshop.com
Are you looking for the right Mother's Day bouquet for your mom, bonus mom or mother figure? We know that sometimes the choice can not be so easy. For this very reason, we would like to introduce you to our favorite Mother's Day bouquets.
Our top 5 Mother's Day bouquets:
Flower Bouquet Kunterbunt - Our bouquet Kunterbunt more than lives up to its name. With lots of bright and radiant colors, it's sure to bring a lot of joy to your mom, grandma or mother-in-law. Be quick and secure this little portion of happiness.
Flower Bouquet Maiblumen - The Bouquet Maiblumen is a dream in pink and purple. With a wide selection of flowers, this Mother's Day bouquet will make the recipient's eyes sparkle.
Rose Bouquet Sophia - Our Rose Bouquet Sophia is a noble gift. The gift, what your mother has more than earned. With noble premium roses and bush roses in combination with eucalyptus, this bouquet is a real feast for the eyes.
Flower Bouquet Vivien - Our beautiful bouquet Vivien in pink and orange consists of flowers gerbera, chrysanthemums, carnations, pink baby's breath and a protea and looks simply stunning.
Flower Bouquet Olivia - A small variety of different flowers - this is our bouquet Olivia. With a mix of different colors and different flowers, this bouquet will make your mom's heart beat faster.
Our Mother's Day bouquets are perfect to please your mom or grandma and show them how much you love and appreciate them. So don't wait any longer and surprise them with our enchanting bouquet!
What flowers to give for Mother's Day?
Saying thank you is best done on Mother's Day with a bouquet of fresh cut flowers. But, which flowers are particularly good to give for Valentine's Day? Gerberas, roses, chrysanthemums or snapdragons, to name just a few examples, are the ideal gift for mothers. We will be happy to explain the different meanings of the flowers:
Be quick and secure a bouquet of flowers for Mother's Day now.
Mother's Day gift - send flowers with gift
This special holiday is after all a beautiful occasion to give joy and a smile to his mother. Show your mom that you are thinking of her! Flowers speak the language of love, but how about sending your mom a delicious box of chocolates or a beautiful gift cup with fresh Mother's Day flowers?
Additionally, make your mom happy by personalizing your Mother's Day greeting with the help of a small gift. Our online store allows you to order an individual free greeting card, a personalized video message or a vase.
Ordering flowers online is especially practical and convenient for Mother's Day. Choose the most beautiful Mother's Day gift from our assortment and we will send it to you or your mother in time for the second weekend in May. Ordering and sending flowers online is easy because we take care of everything.
From tying the bouquet to packing and shipping. Your flowers for Mother's Day will then make their way through the mail and are guaranteed to make your eyes sparkle. It's that easy to give flowers on Mother's Day.
Have colorful and seasonal flowers delivered now at fair prices as a gift for Mother's Day.
Have flowers delivered for Mother's Day
We continue the trend of sending flowers for Mother's Day and offer you a selection of the most beautiful bouquets that will make your mom's heart beat faster. Of course, every grandmother and mother-in-law is also happy about a delivery of great Mother's Day gifts!
Unfortunately, you can't give your mother your flower greeting in person? Then our flower delivery service is for you. With us you can easily choose your Mother's Day bouquet and have it sent accordingly. The last possible delivery day before Mother's Day is the Saturday before Mother's Day, which is one day before the holiday on Sunday - Our Mom's Day.