Blumenshop.com is your partner if you want to have flowers delivered in Frankfurt. Our experienced florists bind our bouquets lovingly on the day of pickup from our shipping partner. So your bouquet arrives fresh in Frankfurt and the surrounding area like Darmstadt, Offenbach, Mainz, Hanau, Bad Homburg or Rüsselsheim.
Our bestsellers:
Sale!

Sale!

Sale!
Deliver Flowers - Frankfurt
The nearest flower store in Frankfurt is too far away for you? Then we are happy to help! With us you can easily order flowers online from home or on the road.
Whether red roses, colorful gerberas or seasonal flowers such as tulips, hydrangeas or sunflowers - we offer you a wide range of different flower varieties.
There is also something for every occasion - birthday flowers, sympathy flowers or a bouquet for an anniversary - we offer you a wide selection of suitable bouquets.
Frankfurt - a dynamic city with culture, greenery and history
Frankfurt am Main, also known as "Mainhattan", is a dynamic city in the heart of Germany. Located in the state of Hessen, Frankfurt is the fifth largest city in the country and an important financial, business and cultural center.
Frankfurt's skyline is world-renowned and impressive. The city is a major financial center and home to the European Central Bank. The skyline consists of many tall buildings, including the Commerzbank Tower, the Messeturm and the Maintower.
The city also has a rich cultural history. The Goethe House, birthplace of the famous German writer Johann Wolfgang von Goethe, is a popular tourist destination. The Frankfurt Opera is an important opera house in Germany and offers a wide range of performances throughout the year.
In addition to beautifully landscaped parks, where trees are the main attraction, there are also flowerbeds with colorful flowers, where you can relax and unwind. Get this feeling at home and have fresh flowers delivered!
Overall, Frankfurt is a city full of contrasts and opportunities. Although it is known as a financial center, it also offers a rich history, culture, and recreational opportunities for all visitors and residents.
Send Frankfurt Flowers: It's that easy!
Ordering flowers made easy. With us you can order a bouquet of flowers in no time and have them delivered to Frankfurt. We will tell you exactly how to do it:
Put the bouquet that you or the recipient like in the shopping cart.
In the shopping cart you can either write a greeting text for the free greeting card or choose the free video message. From the shopping cart you can go to the checkout area.
In the checkout area you can enter all relevant data for the order. From delivery and billing address as well as delivery method, date and payment method.
Finally, you must complete your order by clicking on the button "Place order".
So you have easily ordered a flower greeting at blumenshop.com. Please note that the link for the video message will be sent to you after completing the order. Sending flowers to Frankfurt has never been easier.
Send floral birthday greetings to Frankfurt
If you can't wish your local friends in Frankfurt a happy birthday in person, you still don't have to miss out on a beautiful gesture. With our flower delivery service, you can send flowery birthday greetings and show that you are thinking of your loved ones.
We offer you the opportunity to send a beautiful bouquet of flowers to the birthday boy or girl, even if you are unable to attend. You can choose from a variety of typical birthday flowers to make the bouquet exactly to the taste of the recipient. Possible flowers would be:
Gerbera - If you want to wish a friend a happy birthday, then gerberas are the perfect choice for you. This is because these flowers represent appreciation and friendship, making them the ideal messengers for your birthday greetings.
Roses - Roses represent love and affection and are great for showing your loved ones what they mean to you. Red roses, in particular, are a wonderful birthday token of love and a romantic gesture that is sure to get hearts racing.
Chrysanthemums - Want to send good luck to Frankfurt for your birthday? Then chrysanthemums are the perfect choice for you. With these flowers, you can express to your loved ones in Frankfurt in a special way that you wish them good luck and success.
Sunflowers - Surprise the birthday girl or boy in Frankfurt with sunflowers during the summer months. With their cheerful color and sunny appearance, they are sure to put the recipient in a good mood and bring a smile to their face.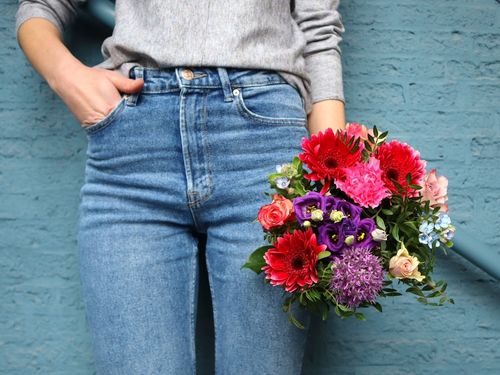 Order Flowers Online - Frankfurt
If you are looking for a florist in Frankfurt, then blumenshop.com is the right place for you. We send the freshest flowers to Frankfurt and there is a reason for that: our blumenshop team works exclusively with selected growers and has your bouquet freshly tied by our florists only one day before the desired delivery date.
This allows us to promise a 7-days-freshness on all our bouquets. We process the flowers in our bouquets fresh every day and send them directly to the recipient in Frankfurt. It has never been easier to deliver a beautiful bouquet of flowers to friends, sisters, mothers, acquaintances or relatives in Frankfurt.
Send a bouquet of flowers to Frankfurt on a variety of occasions. Whether it's for Valentine's Day, Mother's Day, a birthday, anniversary, a housewarming or just to say thank you - with us you can send a colorful bouquet of flowers to Frankfurt and make the recipient happy.
Send flowers to Frankfurt with gift
Did you know that you can send a gift with your flower greeting? Blumenshop.com offers you several ways to send a flower greeting with a gift to make your flower delivery a wonderful surprise.
From chocolates or pralinés, to cuddly toys, gift cups or gift cards, we help you make your flower greeting something special.
The recipient does not have a suitable vase at home? No problem! We also have something for that. In our online store you will find the right vase for every bouquet.
Advantages of delivery flowers to Frankfurt
We will tell you why you should make people who live in Hessen, Frankfurt or the Frankfurt area especially happy. Because we tell you five advantages of your flower delivery to Frankfurt, so you don't have to visit a florist in Frankfurt.
Your flowers will be sent as shown
We grant a 7-days-freshness-promise
Your delivery date is freely selectable (Monday to Saturday)
We deliver the flowers in a high quality shipping box
Use the free high-quality greeting card or record a personal video message
Our customer service for flower orders in Hessen
The blumenshop team is available to answer any questions or comments you may have about ordering or delivering flowers to Frankfurt, Mannheim, Giessen or Wiesbaden. Our team is available from Monday to Friday from 9:00 to 17:00 o'clock.
If you order on working days before 15:00 o'clock, your flowers can be delivered the next day in Frankfurt and the surrounding area.