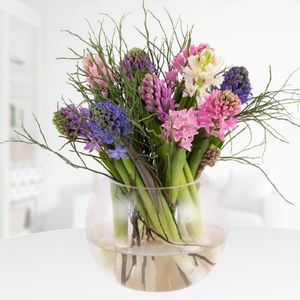 Buy hyacinths
Hyacinths are one of the early bloomers that bring spring into your home. Not for nothing, the beautiful flower is one of the most popular spring flowers.
With countless small flowers that form one large one, they are a true flower wonder and make your eyes sparkle.
An aromatic experience
Hyacinths enchant you with a wonderful lovely scent that captivates your home. The scent is said to have a calming and relaxing effect.
Create your own wellness oasis with a bouquet of hyacinths!
Hyacinth profile
Origin: The Orient
Colors: white, pink, purple, blue, yellow
Flowering time: March to May
Species: about 200 different species
---
Occasions to give a beautiful bouquet of hyacinths
Because of their seasonality, hyacinths are great for spring weddings, whether as a bridal bouquet or as decorations. They will become the highlight of the wedding. On the Easter table in April, these flowery beauties also make great Easter flowers. With hyacinths you can conjure up a wonderful Easter decoration.
Hyacinths are also wonderful to give to friends and family, whether for a birthday or just to say thank you. Hyacinths are always a good gift. Hyacinths are also welcome guests on wedding anniversaries or other anniversaries.
Order your hyacinth bouquet online now and give joy as a gift!
Hyacinths and their meaning
In the language of flowers, the hyacinth stands for affection and beauty. As with the rose, however, the different colors of hyacinths also have different meanings. We tell you what the different colors, such as blue hyacinths, stand for:
White: White hyacinths symbolize purity and innocence. They are very suitable for a wedding or a baptism in spring.
Pink: Pink hyacinths represent affection and friendship. Therefore, they are the perfect gift to give to good friends or nice colleagues to please them.
Blue: Hyacinths in the color blue mean loyalty and trust in the language of flowers. This bouquet is therefore a good gift to your partner or spouse. Deep friendships can also be expressed with this bouquet.
Yellow: Yellow hyacinths represent joy and happiness. They shine just as beautifully as the sun that brings warmer weather in spring. A yellow hyacinth bouquet is therefore a beautiful gesture for someone who needs cheering up or as convalescent flowers.
Purple: Purple hyacinths symbolize peace and spirituality. Want to support someone in difficult times and bring a smile to their face? Then give the gift of a purple hyacinth bouquet.
Buy hyacinths now and share your feelings through the flower.
Caring for hyacinth bouquets
Like all cut flowers, hyacinths need a little care once they're shining for you in the vase. We'll share a few tips on how to preserve the beauty and freshness of your bouquet:
Change the water: To keep your bouquet fresh for as long as possible, we recommend cleaning the vase and filling it with fresh water every few days. Add the flower food as well to have as long as possible on your bouquet.
Pruning: To ensure a good water supply, you should regularly prune the stems of your hyacinths. Make sure that you use a sharp and clean knife. With scissors you could bruise the stems.
Remove dead flowers: Since flowers are a natural product, some flowers may wilt first. We therefore recommend that you remove the wilted flowers so that they cannot cause bacteria in the water and the other hyacinths can develop better.
No direct sunlight: Hyacinths do not like direct sunlight, otherwise they dry out faster. For this reason we recommend a bright location without direct sunlight for your hyacinth bouquet.
Avoid drafts: Hyacinths do not like drafts, so avoid draping your bouquet in an airy place.
Cooler rather than too warm: Your bouquet prefers colder temperatures as it will stay fresh longer. Therefore, make sure that you do not decorate your hyacinths near a heat source.
What are you waiting for? Order a hyacinth bouquet now and bring spring and a wonderful fragrance into your home!
When do hyacinths bloom?
You can find hyacinths in cut flower bouquets as early as February. As early bloomers, they help you usher in spring. In the garden, the flowering beauties bloom from March to April, sometimes even into May.
Whether in a bouquet or as plants in the apartment, on the balcony or in the garden hyacinths are always a good choice! Our recommendation: Buy hyacinths now!