Sale!

Sale!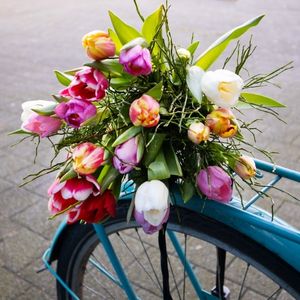 Order colorful spring flowers
Spring flower bouquets are a great way to bring spring into your home. They spread color and bring joy. Spring flower bouquets are a great way to beautify your home and create a pleasant atmosphere.
Give a gift of spring bouquet
A bouquet of spring flowers represents the new beginning and joy of spring. It symbolizes hope and joy and makes the recipient smile.
Give a spring bouquet now and create a good mood!
---
Spring bouquet brings color into the house
A bouquet of spring flowers always brings a good mood. Because, you can order and send spring bouquets with our flower delivery in all colors. Whether a classically tied bouquet, wild and lush wildflowers bouquet or unusual bouquets.
With our spring bouquets the warm season arrives. Fragrant flowers in bright colors are harmoniously tied and are suitable for any occasion.
Spring flowers for every occasion
A spring bouquet is suitable for many happy occasions, as it conveys joy and creates a good mood with fresh flowers and enchanting colors.
Spring flowers are just the right gift for a birthday, wedding anniversary, or as a get well wish. Say thank you again and make a loved one happy by sending him or her a great bouquet of spring flowers.
Send spring flowers all over Germany
We deliver to every corner of Germany, whether to Hamburg, Berlin, Cologne or Munich - no problem. With our wide range of fresh flowers and plants, there is a suitable gift for every flower lover. Freshly bound and shipped they give a lot of pleasure. Promised
How to order your spring bouquet?
Ordering and gifting online can be so easy: Flowers are a timeless gift that simply brings joy to everyone. Let's face it, with a beautiful bouquet you'll hit the mark for any occasion. Order online today and have them delivered tomorrow. This is the uncomplicated way to order flowers:
Choose the most beautiful bouquet for you
If you like, write a lovely message in our free greeting card or record a video message and select it in the shopping cart
In the checkout area you can select the desired delivery date, the delivery address and the payment method and place your order
Sit back and relax and let us take care of the rest
Your spring flowers will be delivered fresh and fragrant by our florists on the day of delivery. If you order today until 3 p.m., you can already look forward to your delivery of spring flowers the following day.
The most popular flowers in spring
The top flower in spring is clearly the tulip. Our colorful tulip bouquets are fresh from Holland. With their bright colors, they will make your eyes sparkle.
The hyacinth enchants with its heavenly smell. Blooming in spring, it is a seasonal flower and only available for a short time.
The ranunculus, on the other hand, convinces with an extravagant and colorful flower dress. It comes as closed as possible, so you can have as much of it as possible.
What does spring mean to us? Fresh flowers!
With spring, we leave the cold season behind and the outside world also awakens to new life. So it's no wonder that fresh cut flowers are also waiting for us in our flower vases.
Spring flowers are among the most colorful varieties of flowers with bright blossoms. They impress with yellow, orange, purple, red, pink and white flowers. Colorful spring bouquets provide joy for the recipient as well as the giver. Be quick and give a gift of good cheer today!
Send spring bouquet with gift
How about adding a gift to your spring flowers? Pimp your spring bouquet with a special little something. Order chocolate, a cute mug or a cute cuddly toy to go with your bouquet.
Create a good mood with a colorful spring bouquet
Spring and a bouquet of flowers are two things that just go together. In the season when everything comes back to life, colorful flowers also sprout for you and say in a beautiful cut flower bouquet for good mood and joy.
You can give a bouquet of spring flowers on different occasions like birthdays, Mother's Day, or just as a surprise. Let your loved ones know that you are thinking of them and send a bouquet of colorful spring flowers today.